Powerful sweeper for highways and streets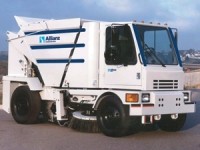 The 4000 series sweeper is a 5.6-cubic-yard mechanical machine. It is hydrostatically driven and capable of sweeping at speeds as low as 0.25 mph and transit speeds in excess of 55 mph.

Allianz introduces a powerful new engine in its 4000 mechanical sweeper. This new 240-hp turbo-charged Cummins diesel provides even more power and torque to what is already considered one of the most powerful sweepers ever built. Coupled to a new Sauer traction pump, this combination has been engineered to give an ultra smooth and extremely reliable drive system for every type of street and highway sweeping.
Company info