Sealed bearing cartridges for tough applications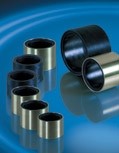 Newly developed sealed bearing cartridges from GGB, formerly Glacier Garlock Bearings, offer a cost-effective, maintenance-free alternative to conventional greased bronze, hardened steel and rolling-element bearings in demanding applications. These include off-highway, construction and earth-moving equipment.

Because they are self-lubricating, the sealed bearing cartridges eliminate the need for continuous maintenance, costly automated greasing systems and environmentally harmful lubricants. Capable of handling loads of up to 90,000 lbf/square inch (620 Mpa), they provide superior wear rate, which averaged just 13 percent of that exhibited by hardened steel bearings in independent tests.

The bearing cartridges come in a range of standard dimensions to accommodate shaft diameters of one to four inches (25mm-100mm) and housing bores from 1.75 to 4.875 inches (41mm-122mm). They also can be produced to non-standard dimensions to meet customers' specific requirements.