Multi-function machine is excavator / front-end loader / man-lift / material handler / crane / trenching machine / brush cutter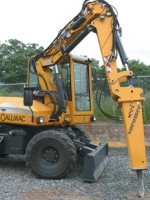 Gallmac Tool Carriers can be used as an excavator (using standard attachments), front end loader, material handler, crane, man-lift, trenching machine, or a brush cutter (with a 40-foot reach).

Gallmac machines are very compact with zero tail swing. They feature excellent reach due to their three-piece boom system, and with three steering modes (rear wheel when used as fork lift, four-wheel or crab steering) units are extremely versatile.

Gallmac machines are assembled using Perkins engines, Rexroth variable displacement hydraulic pumps, Danfoss load sensing valves and Clark Hurth axles.

EEI Socomec hydraulic breakers (shown here on a Gallmac unit) and also manufactured in Italy (for over 30 years), include the model DMS breaker (at 135-1,630 pounds). The DMS is built with a solid monoblock made from through-hardened steel, no tie rods (less breakdowns), a simple design and only two moving parts for easy repair. Cylinders are sleeved for easy assembly and repair, and units are quiet, with low vibrations due to polyurethane insulation.

The model MDO (2,100 to 7,300 pounds) EEI Socomec hydraulic breaker is case-built stronger with longer graphite injected nylon holders in the seat for the hammer, a thicker bottom plate and shelf by Hardox 300 and the bottom of the case by Weldox 700. MDO models feature less vibration due to patented buffers in the top and bottom, a stabilizing valve for flow and pressure (a "true" flow regulator), a disassemble and assemble hammer without loosening tie-rods, energy recovery up to 20 percent, a sleeved cylinder for easy assembly and quick, low-cost repair. Enterprising Europa is the North American distributor for both Gallmac and EEI Socomec.