Twin-shaft mixer uses counter-current mixing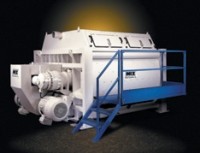 With the addition of a 54-cubic-foot twin-shaft mixer, Mixer Systems now has nine units that range in capacity from 54 to 318 cubic feet. Each model comes with Mixer System's counter-current mixing design that achieves 100 percent mixing coverage in as little as 60 seconds.

Twin shaft mixers from Mixer Systems use a two-stage gear reducer found to operate more efficiently than three-stage reducers used in some other mixers. While paddles, end scrapers and liners on Mixer Systems products are cast for long life, these wear parts are designed for fast adjustment and replacement.

Standard equipment on Mixer Systems' twin-shaft mixers includes a self-diagnostic system. It monitors oil and motor temperatures, as well as fluid levels in the hydraulic system and gear case. If any measurements get out of normal operating range, the Mixer Monitor sends an automatic warning. Also included is a hydraulic adjustable discharge door for full or partial discharge. Pneumatic operation is optional. An automatic washing system is also available as an option.
Company info