Hydraulic box blades come with different designs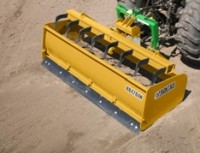 Nine new models are available in the Frontier 41 and 42 series hydraulic box blade line, ranging in size from 21.8- to 39.4-cubic feet. They are compatible with tractors from 50- to 90-hp, and are useful for contractors and landscaping professionals looking for implements to precisely grade and level soil.

The new box blades can be ordered with either a fixed or floating tailgate and are designed with replaceable scarifier shanks for easy serviceability. They are compatible with John Deere iMatch, Category I, and select quick coupler hitches. The blades come with either a low- or high-back design, and in those models larger than 78 inches, come in either green or construction yellow. An easy, fast assembly time and working width ranging from 60 to 96 inches, the blades are an easy way to get levelling and grading in a short time.
Company info