Truck designed for pre-cast operations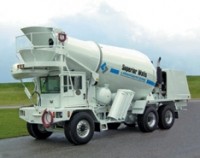 Indiana Phoenix has introduced a new truck model for precast operations. Designed specifically for yard use, this truck makes it more affordable for precast operations to be performed in the yard because it does not include unnecessary features like six wheel drive or the ability to drive at highway speeds. Operators can take advantage of the front discharge truck's pinpoint positioning and labour savings.

The new model has a maximum geared speed of less than 30 mph. It comes with a 20,000-pound non-driving front axle and a single drive tandem rated at 46,000 pounds. The new model has a ten cubic yard mixer constructed of Hardox 450 brinell steel for maximum life. The truck is powered by a Caterpillar 3126 coupled to an Allison RDS3500 automatic transmission.