Manitowoc 16000 erects America's tallest flagpole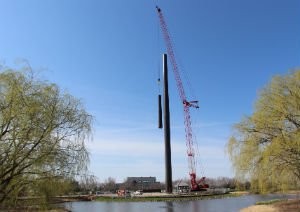 A Manitowoc 16000 crawler crane has erected the tallest flagpole in the United States. The project was commissioned by ACUITY insurance company, to be featured at the company's headquarters in Sheboygan, Wis.
The flagpole measures 400 ft in height and flies a 120 ft by 60 ft U.S. flag. It is visible from at least 11 miles away. By night, the new landmark is illuminated by a custom LED light system. The flagpole is anchored by 680 yd³ of concrete, which is 10 ft deep, and contains mass dampers to lessen movement and vibration. All together the completed structure weighs 210 USt.
Mortenson Construction, located in Brookfield, Wis., handled the project's lifting requirements, for which six sections of steel pole had to be placed. The heaviest section of the pole weighed in at 59 USt, with the five other ascending sections gradually decreasing in weight.
As the Manitowoc 16000 is a mainstay on wind farm construction projects, Mortenson chose the 440 USt capacity crawler crane for this unique project because of its proven track record for success with similar projects.
In fact, the flagpole was fabricated by a company that specializes in wind turbines, so the crane was an ideal choice. Given the patriotic nature of the flagpole project, the team was also pleased to use an American-made crane.
With 315 ft of boom and the option of several attachments, including a luffing jib, fixed jib, 16000 Wind Attachment or Boom Raising System (BRS), the Manitowoc 16000 is extremely versatile, and specializes in lifts that require a long reach. For the flagpole lifts, the crane was rigged with 177 ft of main boom and 277 ft of luffing jib.
Space was a challenge on the job site, which was bordered by the company's active parking lot and a pond adjacent to the tight working space. The position of the crane had to be carefully planned to minimize disruption to the campus. The crane was positioned on timber mats, which helped provide stability on the gravel ground.
Although the crane was required to be on site for 2.5 weeks due to installation and quality control requirements, the Manitowoc 16000 had no trouble erecting the 400 foot flagpole in just three days. Mortensen said there were no surprises and the crane performed flawlessly.
"We are fulfilling our promise to raise the country's tallest symbol of freedom to pay tribute to the service and sacrifice of American Veterans," said Sheri Murphy, vice president - services and administration for ACUITY.
The Manitowoc 16000 is one of the company's most popular crawler cranes. Its EPIC control system and CAN-BUS technology deliver high productivity and precise load control. The precision control was crucial to placing the flagpole sections, which had to line up perfectly during assembly.
Company info
Related products
Related Articles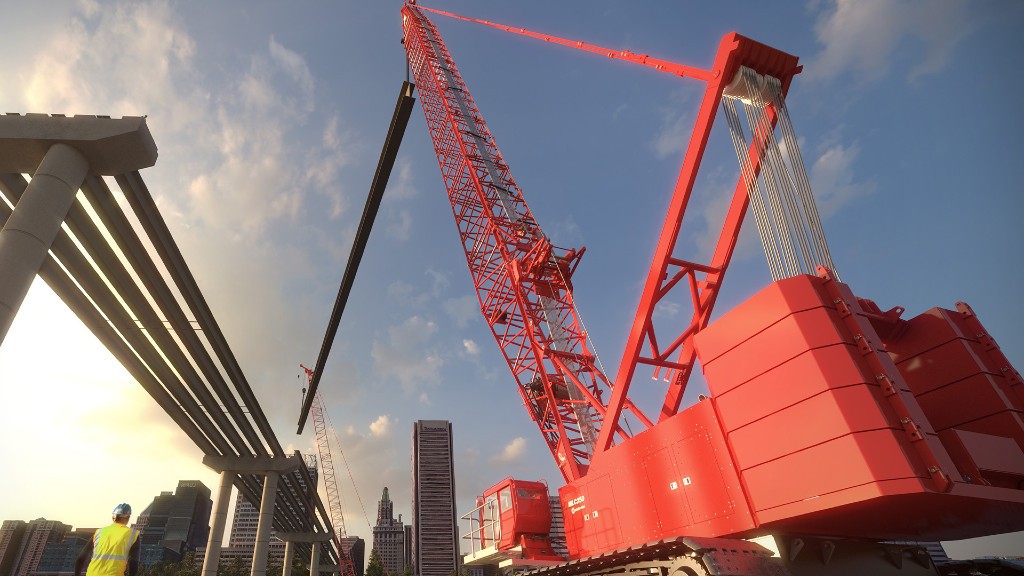 (VIDEO) Manitowoc lattice boom crawler crane updates feature open-loop hydraulics and increased serviceability