8,000 service technicians take part in Scania's global service competition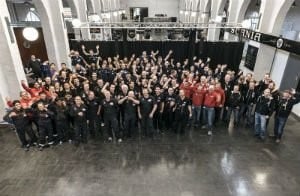 Scania Top Team, Scania's competition-like training programme for its service technicians and parts experts, is about to begin. Some 8,000 participants from over 60 countries develop their skills by combining training and teamwork while competing. The resulting benefit for Scania customers is more effective service.
Scania Top Team is an awarded competitive training programme developed to continually enhance the skills, knowledge, professionalism and teamwork in Scania's workshops all over the world. The competition also helps attract skilled professionals to the industry.
"The ultimate goal for Scania workshops worldwide is to provide services that support customers' business," says Christian Levin, Executive Vice President, Commercial Operations at Scania. "This in turn requires a highly proficient service staff. Scania Top Team is a fantastic way of celebrating the brains, technological skills and teamwork that characterise the people who work in the front line every day."
True to Scania's continuous improvement philosophy, Scania Top Team has developed from a national training event 25 years ago into today's global training programme. This year's is the ninth such event at an international level, and it is bigger than ever. More than 8,000 participants from over 60 countries will be trained in service-related theory and practice at Scania workshops worldwide.
The national rounds start up with theory assignments and finish off with a national final that includes both practice and theory. The winners of the national rounds meet at five international regional rounds. Of those, 10 teams will qualify for the world final in Södertälje, Sweden, during 3–5 December 2015.
The Top Team 2013 event was recently chosen as the Event of the Year at the Golden Wheel awards held by Sweden's Sponsorship and Events Association. Events nominated for the B2B Event of the Year included the inauguration of Abba the Museum & Swedish Music Hall of Fame, computer-services company HP's Partner Summit, computer-services company IBM's Smarter Business, and Swedish life insurance and pension company SPP's Spelet om Framtiden (Future Game).