Dexter + Chaney announces new mobile app for payroll time entry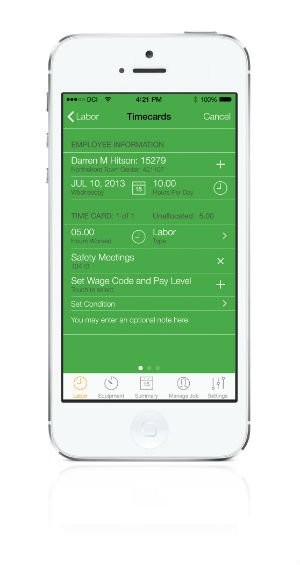 Dexter + Chaney, providers of Spectrum® Construction Software, has released its new mobile app, Payroll Time Entry. Developed for Android and Apple tablets and smart phones, the Payroll Time Entry app lets supervisors and project managers quickly and easily enter labor and equipment hours directly from the job site.
Users simply select the appropriate job then enter time for all employees and equipment assigned to that job. The app lets users assign and reassign people and equipment as needed, and provides tracking for supervisors to employ when monitoring the labor and equipment costs associated with their jobs. Dexter + Chaney introduced the app at its 18th annual users' conference, held recently in Seattle.
Payroll Time Entry can be used online or offline. Data is synchronized automatically with Spectrum, Dexter + Chaney's cloud-based construction software. Spectrum applications including payroll, job cost, human resources and equipment management all make use of the data from Payroll Time Entry.
"We are very excited to be able to bring this app to the construction market," said John Chaney, Dexter + Chaney's co-founder and CEO. "We listened to our customers and realized there was a strong need for an effective, secure, easy-to-use tool to help close the data gap between the field and the office and provide more accurate and up-to-date job cost data.
"The best apps out there are designed to do one thing and do it well," Chaney said. "We designed our Payroll Time Entry app to provide a simple data entry tool that makes sense to supervisors in the field."
Chaney added that the Payroll Time Entry app furthers Dexter + Chaney's commitment to the construction industry to provide easy-to-use solutions that increase the accessibility of information. "Our newest software solutions support the needs of the industry as more computing and data communication becomes mobile," said Chaney. "That means software that can be used in the office and in the field – anywhere the business of construction takes place."