Grasan Stackable conveyors for quarries and gravel pits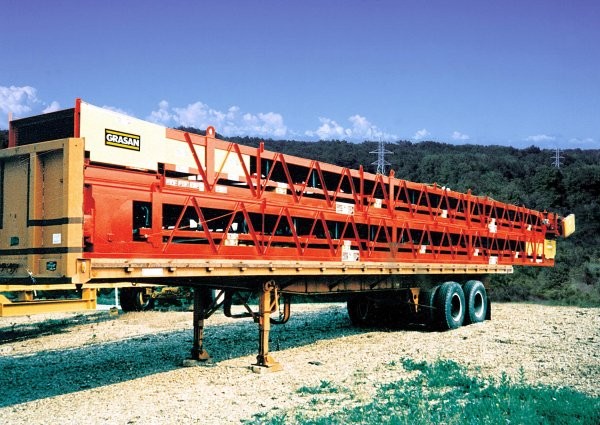 Grasan stackable, stationary transfer conveyors are designed for efficient road and pit portability in quarries and gravel pits with minimum disassembly and no breaking of belts. Belts are completely recessed within the structural framework for protection and easy, compact stacking. Up to six conveyors normally can be stacked three tiers high on a flatbed trailer, minimizing the number of trucks needed for road travel.
Grasan stackable conveyors come in lengths of 40 and 85 feet and up to 100 feet with folding head sections. Belts come in widths of 24 to 60 inches. The rugged frame construction is jig welded, through bolted and has tubular steel bottom members to span long distances between supports more rigidly than conventional truss and channel frame construction. This allows the use of fewer and lighter weight supports.
Grasan can size the conveyor and drive for specific applications. Standard designs use a 20-inch-diameter rubber lagged pulley with Q.D. tapered bushings; 2-7/16 inch or larger turned, ground and polished shafts; a wing-type tail pulley tensioned with top angle protected screw takeups; a 1.15 service factor TEFC motor; totally enclosed drive guard; nip guards and tail pulley guards.
Frames are solvent cleaned, primed and finished with a durable topcoat in standard or custom colors.