Severe-duty loaders provide toughness required for recycling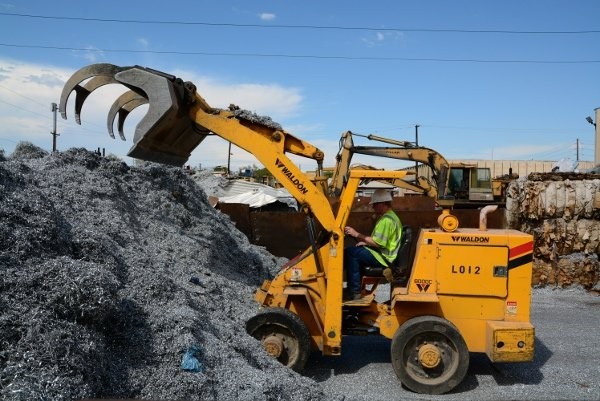 For harsh recycling operations, severe-duty grade loaders outperform commercial-grade loaders, by minimizing production downtime due to breakdowns.
According to Oklahoma-based manufacturer, Waldon Equipment, the scrap industry has evolved into a very highly sophisticated commodities market in which the end user has specific requirements that scrap conform to very precise grades and specifications. In fact, there are no fewer than 130 grades of nonferrous scrap and 100 grades of ferrous scrap.
To process all this material requires a great deal of sorting, processing and analysis by recycling operations, using a wide array of equipment. Waldon says that key among these are "severe-duty" wheel loaders with attachments designed to scoop, grab, and move heavy metal objects, from intake through to being ready for market, as they are broken down into smaller pieces during processing.
So, what is a severe-duty grade loader? To start, Waldon says, it is important to define what it is not. It is not commercial-grade equipment intended for farming, landscaping or construction that has been repurposed for industrial use. Such equipment may be built to withstand some pretty tough conditions, but not constant use in recycling operations.
Besides the repetitive impact, abrasion and strain of constantly moving materials, severe-duty loaders are also subjected to harsh environments. For recycling operations this includes dust and debris, sharp objects that can puncture tires, and – in the case of outdoor processing – wet, slick ramps and surfaces, mud and snow.
"This environment is about as harsh as you can get," says Terry McReynolds, maintenance supervisor at industrial scrap metal processor Atlas Metal & Iron Corp. of Denver, Colorado. "The mixture of metal and dust that comes in with the material we have in our operation is worse than a rock crusher."
The problem is so severe, that McReynolds has the air cleaners on some of his equipment changed every 100 hours of service on dry, summer days. True severe-duty loaders designed to work in this type of environment, according to Waldon, are built essentially like tanks with extra heavy-duty frames and fenders, four-wheel drive, and thick, low-profile articulating frame plates that provide a tight turning radius.
Atlas Metal & Iron purchases both nonferrous and ferrous metallic scrap including aluminum, brass, copper, lead, stainless steel, zinc, cast iron and steel. The company processes the scrap metal by various methods, including baling, cutting, chopping, shearing and sorting.
To keep various categories of metal separate, Atlas Metal & Iron dedicates specific areas to each at its facility. Within each of these areas, material is broken down and moved around as it is processed to a size that can be shipped to customers.
"The loaders are used to handle the bulk material," says McReynolds. "As the material gets processed down, we scoop it up in a bucket just like you would dirt or gravel."
For these tasks, the company currently owns and operates three severe-duty wheel loaders from Waldon Equipment. Two of the Waldon models are equipped with grapple/bucket attachments and one with just a bucket. McReynolds estimates that the loaders are used constantly, every day the facility is open, for a total of six or more hours each day. Although not its primary purpose, Atlas Metal & Iron also uses its severe-duty wheel loaders as snow plows during winter to clear the yard.
Waldon Equipment manufacturers heavy-duty industrial loaders, lift trucks, forklift attachments, as well as a mini backhoe. The company says they have specialized in material handling equipment for harsh environments for over 45 years. According to McReynolds, Atlas Metal & Iron has been using Waldon loaders since the 1980s. Their three current machines, however, were purchased within the past six years.
Waldon severe-duty wheel loaders are built with an extra heavy-duty frame, 1-inch thick steel fenders, and extra thick articulating frame plate. According to the manufacturer, the all-hydraulic 4-wheel drive train on models 4500B and 5100, or the hydrostatic 4-wheel drive train on models 6000XC, 7000m and 8500C, provide superior power and capacity-to-size ratio, as well as superior traction over two-wheel drive loaders.
Plus, because these severe-duty loaders have low profile articulated frames, they have more ceiling clearance and a lower centre of gravity than typical light-duty, commercial loaders.
"The centre section, the articulated part, is built heavier on the Waldon loaders than on a lot of the others," adds McReynolds. "In this category, Waldon loaders seem to be tougher than most. And they require minimum maintenance compared to other machines."