Tallest CONEXPO Order: Amquip purchases Terex Superlift 3800 crawler crane and twenty four Terex Rough Terrain Cranes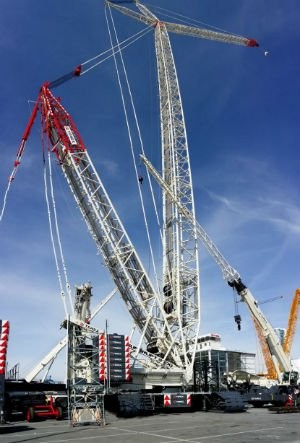 The tallest crane in the history of CONEXPO has a new owner: USA Based Amquip Corporation. Together with the order for the Superlift 3800, AmQuip has also signed an order for twenty four rough terrain cranes, the cranes, all of them RT 555-1 rough terrain cranes come as the result of increased demand and will be destined to several jobsites and locations across the US.
About the purchase of the latest Terex crawler, Al Bove, COO, AmQuip says: "We organized our team of Crawler Experts, Fleet Managers, and Project Principles to review all of the cranes available in this class. After a lengthy and well thought through process our team unanimously decided that the 3800 was overall the "Best Crane Offered In This Class". AmQuip purchased the crane with all available options, including luffing jib and mobile counterweight wagon.
This investment is part of AmQuip's strategy to invest in high quality equipment to deliver effective and efficient solutions to their customers, Jon Capuzzi, Chief Product Officer, comments, "With project work increasing, AmQuip wanted to set itself apart from the competition. Knowing Terex's product is proven; AmQuip's team decided that purchasing the SL3800 will be a solution for AmQuip customer's lifting requirements.
Mobile workhorse
A very popular rough terrain crane model worldwide, the Terex RT 555-1 is a staple in petrochemical and general construction jobsites." AmQuip is continuously growing their customer base. With our rough terrain fleet cranes currently experiencing high utilization rates, we decided to add 24 units of this dependable horse to our fleet" Said Jon Capuzzi.
"Our companies have been doing business together for over 30 years and share a strong, trusting partnership. We have a long experience with these robust cranes, and know that we can count on them and the Terex Cranes team to deliver us the results that our customers need." said Mike Good, Operations Vice President, Amquip.
"We are delighted that Amquip has entrusted us with these new orders which comes as the result of a long-term partnership. We have a great relationship and our team looks forward to serving Amquip for many years to come," said David Naab, Sales Manager, Terex Cranes North America.
About The Terex Superlift 3800 Crawler Crane
The Terex® CC 9800 lattice boom crawler crane is based on the existing CC 8800-1 model and uses the same machine components as the larger CC 8800-1 TWIN lattice boom crawler crane, which is one of the largest mobile cranes in the world with its lifting capacity of 3,200 tonnes. The CC 9800's maximum load moment with 1,122 tonnes at 24 m radius, and an 800 tonne Superlift counterweight is 26,930 mt. Meanwhile, its maximum main boom length when using an SSL/LSL configuration is 156 meters. When using the typical configuration used for lifting wind turbines, the crane features a main boom of up to 144 meters and an 18-meter luffing fly jib that is tilted forward at an angle of 20° (SSL/LSL + LF). When equipped with a 132-meter main boom and an 18-meter extension, the machine features a lifting capacity of 380 tonnes and a hook height of 147 meters. The longest possible SWSL combination (luffing fly jib with Superlift) is 108 m + 120 m, resulting in a maximum hook height of 223 meters.
About The Terex RT 555-1 Rough Terrain Crane
At home in virtually any jobsite condition, including thick mud or rugged terrain, the Terex® RT 555-1 crane is a highly versatile, maneuverable, multi-tasking machine capable of completing a variety of jobsite needs from start to finish in confined areas. The perfect solution for moving materials around the jobsite, this unit's lift and carry capabilities can help benefit the profitability of any crane fleet. Offering a rated capacity of 50 t (55 US tons), this machine provides excellent short and long radius lifting capacities and is well-adapted for operation on jobsites where space is tight. Equipped with front-wheel, concentric four-wheel and four-wheel crab steering, the RT 555 rough terrain crane with a maximum 3.07 m (10.10-foot) machine width on 26.5 x 25-26 PR tires can access, maneuver and operate comfortably in spaces where other cranes simply cannot go. Standard cab design features include air conditioning, heating, 6-way adjustable seat, sliding door, hinged tinted all glass skylight, armrest-mounted joysticks, graphic load limiter interface, plus work lights and a rotating beacon for excellent comfort and operational safety. A wide variety of jib options are also available to increase crane capacity - and return on investment.