Award hat-trick for Volvo Construction Equipment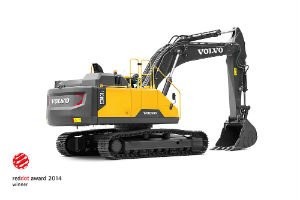 Volvo Construction Equipment is celebrating a triple success in one of the world's largest and most distinguished design competitions – the Red Dot product design awards.
Three Volvo Construction Equipment products – the EC380E tracked excavator, the Volvo Visibility Vest and the BP30L Identity Backpack – beat thousands of international entries and wowed a panel of design experts to win a prestigious Red Dot product design award. This latest success means that Volvo CE's articulated haulers, wheel loaders, excavators and merchandise have all won Red Dot awards. Volvo CE's entries were up against more than 4,800 products from 53 nations. Since 1954, the Red Dot design competition has recognized and rewarded the very best in international design. This year, the jury of 40 renowned design specialists spent several days evaluating the entries according to the Red Dot motto 'in search of excellence'. The strict judging criteria included assessing the degree of innovation, level of functionality and the durability of the products.
A different approach to design
The three award-winning products each represent a design change at Volvo CE. The EC380E is one of the first excavators from the new Volvo design generation and exemplifies a complete redesign of a Volvo CE machine. Built from the same DNA but with a completely new exterior and interior, the heavy-duty production machine has been designed to work on tough job sites. The backpack and vest are part of a new range of merchandise which has – for the first time ever – been developed from start to finish by the same designers that create Volvo CE's machines.
"We are thrilled that three Volvo CE products have been awarded this internationally recognized mark of design excellence," says Anders P. Larsson, executive vice president of Volvo CE's Technology function. "The EC380E, the Volvo Visibility Vest and the BP30L Identity Backpack represent a unified Volvo brand. Our designers approached the merchandise project just as they do when designing construction equipment. The modern appearance and innovative design of each product reflects the premium quality of the Volvo brand."
The Volvo Visibility Vest was born from an idea submitted by a Volvo CE employee in the company's Sales and Marketing organization. He wanted a jacket that combined two products in one – a stylish vest that could be reversed to become a high-visibility jacket, a necessary item for visiting customers on a construction site. The BP30L Identity Backpack was made to withstand the tough conditions found on construction sites. Carefully designed to reflect what customers in the construction sector require from a work backpack, it incorporates a durable, waterproof exterior and safety features including an orange chest strap and reflective Volvo logo.
"The people who buy Volvo CE machines do so because of the quality and reliability of the equipment – we want our merchandise to reflect and build on this strong reputation." explains Mats Bredborg, global director of brand management at Volvo CE. "The distinct and functional design of the vest and backpack are in line with the identity of a Volvo machine – both are instantly recognizable as Volvo CE products. It's clear that our machines and our merchandise come from the same place, from designers who really focus on our customer's needs."
Company info
Related products