John Deere Introduces New Value-Priced Telematics Solutions for All Makes of Stationary and Mobile Equipment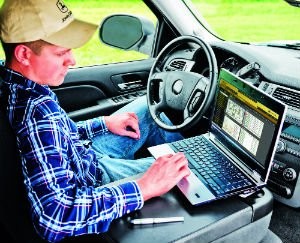 John Deere's user-friendly JDLink machine monitoring system is now available for all makes of stationary and mobile equipment with two new Universal Telematics subscription levels.
JDLink Locate and JDLink Express boast value-priced hardware and subscription costs. "JDLink Locate and JDLink Express allow contractors to track and protect all pieces of equipment on their jobsites with the same JDLink application they use for the rest of their John Deere machines" said Tom Trone, director of global WorkSight Solutions, John Deere Construction & Forestry. "The hardware can be installed on both powered and non-powered assets and will keep companies informed on location, help protect jobsite assets, and boost profits." JDLink Locate allows a contractor to access asset location and set-up a geofence around a machine, so they can be alerted if it travels outside the virtual boundary. The hardware features an internal battery, so it can be easily installed with screws or adhesive on anything that needs to be tracked. The only mounting requirement is a clear view of the sky. JDLink Express includes these same machine location and geofence features, and adds distance traveled and engine hours so contractors can track utilization and schedule periodic maintenance. JDLink Express also lets a contractor "ping" the machine for real-time data updates. Two different hardware options cover everything from light-duty trucks to skid steers to heavy-duty haulers.
JDLink for Stationary and Mobile Equipment
Both JDLink Locate and JDLink Express provide easy remote access to machines through a single, simple-to-use website. Alerts are sent via email or text message, and escalation logic enables additional contacts to be added to receive alerts in the event one is not acknowledged during a preset time period. JDLink Express information can also be viewed in the JDLink mobile app for Apple iOS or Android devices.
Company info
Related products