Bell bullish about North American business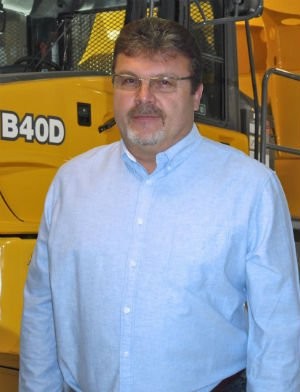 Global Articulated Dump Truck specialist Bell Equipment looks forward to building on the "tremendous success" of its first year back in the North American markets with the introduction of the new generation Bell E-series haulers.
According to Neville Paynter, President of Bell Equipment North America (BENA), key to Bell Equipment's excellent reception in both the USA and Canadian markets has been the dedication and commitment shown by the appointed distributors and Bell Trucks America (BTA), the joint venture formed by Bell and several renowned U.S. construction investors to establish and manage a nationwide Bell distribution network.
Dealers onboard
Wajax Equipment was appointed distributor in the Canadian territory at the end of 2012 when Bell announced its return to North America. BTA was formed early in 2013 and added four new dealers in their first month: Four Seasons Equipment Inc. in Houston, Texas; Hills Machinery in South Carolina and North Carolina; Heavy Equipment Rentals & Sales LLC, in Corona, California; and Highway Equipment Company in Western Pennsylvania.
BTA currently has ten appointed dealers, with the latest dealer appointees: Riverbend Machinery in Colorado, Earthmovers LLC in Florida, Harter Equipment in New Jersey, Orion Equipment in Washington, Newman Tractor in Kentucky and Tracey Road Equipment in New York State. Paynter says: "The BTA business footprint covers about 19 specific territories that we have mapped out. This is really exciting for us considering we set ourselves the target of appointing four or five dealers in 2013."
He adds: "We've been very selective in our dealer appointments because we're here for the long run. We want to build sustainable relationships and not just move trucks in the short term. It has been a challenging year for the various companies with lots of learning. They have had to get their heads around product knowledge, technical, maintenance and service regimes, parts stocking and ordering and the Bell warranty processes. The synergies, business approach and desired outcomes of all three of our companies are very well aligned and this will make for a really good business platform for our success in Canada and the US."
Customer support focus
In addition BENA, Bell Equipment's own company, is structured to support the distribution companies and has been instrumental in providing factory sales, technical and after-sales support across the North American distribution network. Paynter says: "We have completed product sales training courses with the new dealers and have been involved in numerous machine demonstrations. We have done technical training for the new dealers and in January we welcomed Ryan Castle to head up the on-going technical training to the dealers, which will quickly bring them up to speed."
The timing of the company's return has also proven opportune. "It appears that several traditional ADT manufacturers have suffered design and technical issues with launching their new series of machines, especially with the new emission technology. This has resulted in many customers looking at other machine manufacturers for increased uptime and better cost options. Bell certainly brings a strong, reliable and stable range of ADTs to the market and has enjoyed the opportunity of getting a review."
Commenting on sales in 2013, Paynter says: "Delivery of machines to dealers as well as dealer sales has been positive for 2013 and we feel confident that the high growth and gains in market share will continue during 2014. This year we will continue with the dealer appointment thrust and at the same time build on our support to the dealer network. We will be very active in working with dealers to make retail sales to their customers to ensure we get the right numbers for 'first in dirt' sales."
Market outlook
And he is cautiously optimistic for continued growth in 2014: "The construction market in the US has been responding to a slight up-turn in construction in 2013 and, gauging from the market sentiment, there seems to be some optimism for the full year as far as dealer sales and rentals of equipment. However there is caution going into 2014 and certainly no great expectation of a bullish year – but if 2014 can offer the same or slightly better than 2013, most of the industry will be happy with that.
"The Canadian market in more mining dependent and has felt the effects of the global mining slow down this year. This has affected new and used sales across the board for the whole industry. The Canadian market is a lot more cyclical but the outlook seems positive for 2014.
"Industry figures in both Canada and the US for 2013 show the 40 ton truck as being the most popular machine. Customers are looking to use the larger trucks as much as possible to reduce operating costs in a slender market. It gives them less operator and maintenance requirement and costs. Bell will be working 2014 to target the larger truck market and will have a strong push on the B50D, as we still have a niche with this truck," he says.
E-series launch
2014 will also mark the introduction of the new E-series generation of Bell ADTs, which includes the smaller B25E and B30E models. "The E-series feels like a long awaited occasion and we have created a lot of expectation and interest with the fact that we couldn't launch a small machine in the market until January 2014. We already have pre-orders for the E-series trucks and there is good anticipation. We are confident that the E-series will quickly establish itself as a solid workhorse due to its impressive fuel economy, favourable power-to-weight ratio and industry leading features including our Bell [email protected] vehicle monitoring system. Living up to the Bell reputation, they are strong, reliable machines backed up by our strong reliable support," says Paynter.
More from Roadbuilding
A bottleneck of haulers waiting to be loaded is inefficient. Idle machines burn unnecessary fuel, increase maintenance costs and decrease resale values when you're ready to trade them in.
When you pair the new Volvo EC950F crawler excavator and A60H articulated hauler, you can load trucks faster. The EC950F can utilize a 10-yard bucket to fill a 60-ton capacity A60H in only four passes — reducing passes lowers fuel consumption and drastically speeds up cycle times to keep your haulers moving. See how the massive EC950F and A60H improve cycle times and more to boost your profitability.