New CASE SiteWatch iPad App Optimizes Access to Equipment Data for Monitoring in the Field and Away from the Office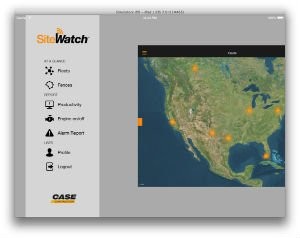 New app gives business owners and fleet managers deployment, maintenance and security information delivered to their iPad; helps contractors make educated business decisions based on information from the field.
Further empowering construction companies to improve productivity, run more efficiently and decrease maintenance costs, CASE Construction Equipment has introduced its SiteWatch app for the iPad. Whether in the field, on the road or on vacation, the SiteWatch app provides business owners and fleet managers with in-depth performance, productivity and maintenance data – conveniently delivered to their iPad.
The SiteWatch iPad app provides actionable information to help manage fleet maintenance, optimize machine performance/utilization, lower fuel consumption and idle time, and lower total operating costs.
Among its features, the SiteWatch app provides the ability to:
· Review fleet details and locate machinery
· Review and create geofences
· Check utilization and working status durations (idle status, high-workload status, etc.)
· Review the status of alarms received within a selected time period
· Review and analyze fuel consumption
· Monitor machine health through the report of key parameters set within the Web application
SiteWatch employs an onboard communication device that monitors the machine's CAN-bus network and transmits data to a designated user's Web portal. Much of the CASE equipment lineup now comes telematics-ready (check with your local dealer for availability), and a three-year Advanced subscription is included with each new purchase as part of CASE's ProCare heavy machinery coverage. CASE N Series backhoes come standard with SiteWatch.
The SiteWatch iPad app is available through the Apple iTunes store.
Company info
Related products