Volvo CE celebrates Jinan Technology Center inauguration
Volvo Construction Equipment has officially inaugurated its state-of-the-art technology center in Jinan, China.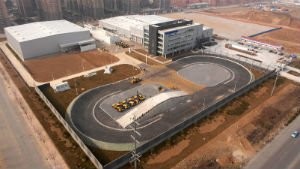 Volvo Construction Equipment has underlined its commitment to the Chinese construction equipment market following the inauguration ceremony of its Jinan Technology Center in Shangdong province, China. The facility was officially opened on March 19th in front of the vice mayor of Jinan, Mr Li Kuanduan, along with 230 guests and media representatives. Engineers at the 50,000m2 site will specifically focus on developing products and components for customers in emerging markets. The SEK 270 million center combines design offices with workshops and facilities for testing both complete machines and components. Currently there are more than 150 employees working at the center – the majority of which are local engineers. Employee numbers are set to grow – the site can accommodate up to 450 people.
"Opening a technical center in China plays an important role in Volvo CE achieving its growth ambitions," explains Anders P. Larsson, executive vice president of Volvo CE's Technology function. "The Jinan Technology Center is an important element in our plan to have a global footprint of engineering and design resources. The facility will help us to expand and develop Volvo CE's global product portfolio."
A strong start
The Jinan Technology Center consists of a test track, design offices and two testing buildings which include component and prototype assembly workshops, as well as areas for testing the performance and structure of equipment. While the new facility was under construction, the team at the Jinan Technology Center produced positive results from their initial, temporary location. The successful development of the L105 wheel loader – the first Volvo branded machine to be developed specifically for emerging markets – demonstrated the capabilities of the engineers there. The L105 was developed over a period of 25 months and launched at the end of 2012. Future projects at the site include developing excavators, wheel loaders and road and utility products – all specifically designed for emerging markets.
Closer to the customer
"Emerging markets present an attractive and growing opportunity for Volvo CE to provide customers with high quality products that are tailored to their specific needs," said Mats Sköldberg, president of Volvo CE Technology, China. "Volvo Construction Equipment specifically chose to invest in the city of Jinan – confirming our confidence in local engineering. China is the biggest, and now perhaps the most important, market for us and we know that it is vital to have a design and manufacturing presence where the machines are used. It gives us a greater understanding of our customers and their needs – and that's a big advantage in today's highly competitive global marketplace. With this new facility we will be able to provide machines tailored to the needs of the marketplace and deliver them to customer specifications in a shorter lead time."
Company info
Related products