ICP CONEXPO Launch Surpasses Expectations with Strong Reception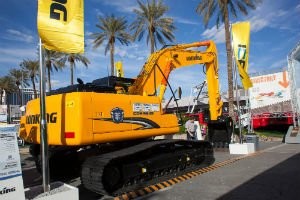 The launch of International Construction Products and the Lonking equipment brand at the triennial CONEXPO-CON/AGG trade show was a success well beyond expectations. Strong buyer and visitor feedback, coupled with high-profile media coverage, gives ICP and Lonking valuable momentum coming out of the show.
"We are thrilled with how things went at CONEXPO," said Tim Frank, ICP chairman and founder. "Our main goal coming here with our brand partner Lonking was to introduce ourselves to the industry. We definitely accomplished that, and sold equipment well beyond my expectations."
Frank and International Construction Products CEO Wes Lee officially launched ICP and its equipment sales and support platform before 75 international journalists March 5 at the Las Vegas Convention Center. They were joined by Lonking CEO Qiu Debo. Equipment World magazine published an extensive story that same day, followed by a story in International Construction magazine, a mention in The Wall Street Journal and a story published by the show daily of the Global Construction Media Alliance (Construction Equipment, Roads & Bridges, Aggregates Business and Construccion Pan Americana. Lee also made an appearance on Construction News Tracker Live, an online news program of Equipment Today magazine and its For Construction Pros web site.
"We are very happy with our media coverage, but even more with the feedback from equipment buyers who came to our booth," said Lee, a former executive with Volvo, Case and Komatsu. "There is strong interest in a platform that delivers low prices, quality machines and the kind of world-class support customers are not used to with Chinese brands. It is a winning combination."
Frank added: "This is very solid validation of our strategy to bring Asian-manufactured equipment to North America and combine it with our unbeatable warranty, parts and support system. I'm very confident equipment buyers will embrace our approach as more become aware of it in coming weeks and months."
Interest in ICP's Lonking excavators and wheel loaders came from businesses of all sizes, Lee said. "This is still an uncertain economy. Contractors are eager to upgrade their equipment, but they still worry about acquisition costs and how they will support those machines down the road. We opened a lot of eyes, showing them they can have both attractive pricing and complete support."
ICP also introduced its web-store portal, ICPDirect.com, at CONEXPO. The site allows equipment buyers to research and purchase Lonking equipment over the internet. The site currently offers 19 models of wheel loaders, excavators and forklifts for sale, with more to be added in coming weeks. IronPlanet, the global leader in selling used heavy equipment online, has partnered with ICP and will provide the secure platform for processing the online orders.
Company info