Mack Granite Model is #1 For All the Right Reasons
The Granite reigns supreme among Class 8 straight trucks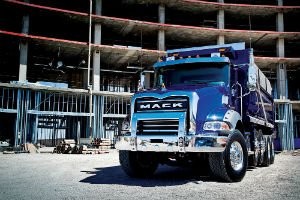 The Mack Granite model was once again the No. 1 selling heavy-duty conventional straight truck in the US. A mainstay on jobsites in an array of dump and mixer truck configurations, the Granite model is also widely spec'd for snowplow as well as roll-off and rear-loader refuse applications, plus any other configuration where the job demands the toughest truck and great performance.
"It's an honor to lead in the straight truck segment, but it's also a position we've earned through our commitment to application excellence – providing customers with exactly the right truck for the job, no matter how demanding or specialized," said Stephen Roy, president, Mack Trucks North American Sales & Marketing.
Available in axle forward or axle back configurations, the Mack Granite model delivers the reliability, durability and strength expected of a Mack. The high-performance, yet fuel-efficient Mack MP7 and MP8 engines range from 325 hp and 1,200 lb.-ft. of torque to up to 505 hp and 1,760 lb.-ft. of torque. Every Granite model is built on Mack's proven Cornerstone™ chassis and can be paired with a Mack Camelback suspension, a vocational industry standard, or the Mack mRIDE spring suspension, which delivers higher ground clearance and extreme articulation.
"The balance of raw power and commonsense efficiency built into the Granite model has made it the unyielding foundation of any jobsite," said Stu Russoli, Mack construction product marketing manager. "Our tradition of application excellence means we're not just building trucks, we're building tools for specific jobs. We take into consideration each customer's exact needs based on their unique operation."
In recent years, Mack extended the Granite lineup in response to customer demand. The Mack Granite Sleeper is a great choice for oilfield operations that require overnights or those who have expanded their operations beyond regional sites. An extension of the Granite family, theMack Granite Medium Heavy-Duty (MHD) packs all the rugged features and driver amenities of the Granite, but offers a lower-cost, lighter-weight option for jobs that don't require the full muscle of a Granite model.
Company info
Related products