McCloskey International Announces New Product Division
Global unveiling a first look at new HDD product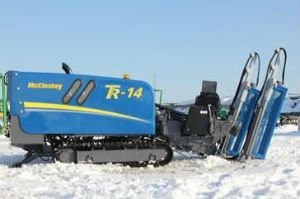 Screening and crushing industry leader, McCloskey International, has unveiled a new product division at CONEXPO/CONAGG 2014. The McCloskey Trenchless Equipment Division will supply Horizontal Directional Drilling (HDD) Equipment to oil and gas, construction and development companies, as well as utilities including communication, power, gas, and water.
"Through this new division we position ourselves well in the North American HDD market as we continue to develop and deliver products that boost productivity and profit for our customers," says Paschal McCloskey, President and CEO of McCloskey International. "The drilling business is a natural fit for us."
The newest member of McCloskey's family of products will be on display on the Platinum Lot, Booth #8622, for the very first time. The McCloskey TR-14 Horizontal Drill Rig sets a new standard in HDD with the most torque and horsepower in the smallest footprint in its class. An advanced electric hydraulic system delivers more horsepower to the ground, better fuel efficiency and guarantees 14,000 lbs of thrust/pullback while simultaneously delivering 1600 ft lbs of torque rotation.
The TR-14 and TR-40 boast a fully featured microcomputer supporting internet and satellite communications, while interactive diagnostics alert operators to service and supply needs, as well as when to order parts and regularly scheduled maintenance. Combining brains and brawn, the rugged and reliable TR drills are ready to tackle the toughest jobs.
McCloskey will be showcasing new features and product enhancements to a total of seven products over 12,800 sq. ft. representing all four product lines and the new trenchless division. These machines include the drill, two crushers, two screeners, a trommel and a stacker.
Over the past twelve months the company has continued to add new international dealers across all regions to represent the number of new products that were added to the company's portfolio.