Ox Bodies Introduces New Stampede Ultralight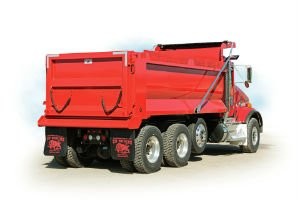 Ox Bodies has introduced its new Stampede Ultralight (UL) series dump body. The Ultralight is well suited for a range of applications from sand-to-small aggregates and asphalt.
A lightweight, elliptical dump body combined with traditional Stampede long-term reliability and durability. The Stampede Ultralight is designed for maximizing payload capacity and reducing operating costs in low-wear payload conditions. Average dump body weight reduction is approximately 20% over the Ox Bodies' similarly configured, heavier-duty Stampede HD version.
The dump body features widths of 96 and 102 inches, side heights of 36 to 46 inches, lengths of 10 to 21 feet and capacities from 6.9 to 19.0 cubic yards. In addition to a wide range of high-end features, numerous product-enhancing upgrades are also available.
Since 1972, Ox Bodies has been a leading designer, manufacturer and installer of medium and heavy duty dump bodies, platforms, trash bodies, end dump trailers and related truck body accessories. Ox Bodies is part of the Truck Bodies and Equipment Inc., (TBEI) family of companies.