Skyjack Debuts New Electric Rough Terrain Scissor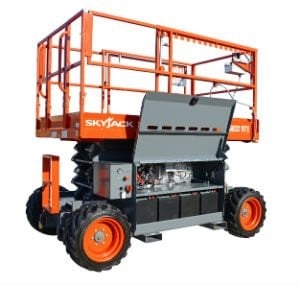 Skyjack has launched a new industry-leading electrically powered rough terrain scissor lift at ConExpo 2014, debuting the brand new SJ6832 RTE at booth 1837 Gold Lot. The only machine in its category with four-wheel drive and 45 percent gradeability as standard design, the SJ6832 RTE provides end users with a zero emission scissor lift built with the low running costs and high up time associated with the Skyjack "simply reliable" AWP design philosophy.
To simplify operator and service training, the SJ6832 RTE was built on the same chassis as the existing diesel and dual fuel 68RT units. This decision allows those already familiar with the highly popular traditionally-powered 68RT lifts to experience a seamless transition to the RTE. Maintenance costs and time are also reduced with the RTE due to the elimination of servicing air filters, fuel filters, oil filters, oil changes, belts, coolants, etc. Almost all non power-plant related parts are common with the internal combustion 6832RTs. The standard Skyjack color-coded and numbered wiring system, along with full access to all serviceable components and a tilt-out hydraulic manifold adds to the ease of user maintenance for the SJ6832 RTE.
"An electric version of one of Skyjack's most popular machines is a great addition to the options we can offer our clients," said Brad Boehler, president of Skyjack. "The SJ6832 RTE offers the best of both worlds with a zero emission machine that doesn't require any special training to run because it's built on the standard lift frame that many of our clients are accustomed to using. You can take this machine from rough terrain to indoor projects seamlessly without any extra noise, emissions or costs."
Known as an industry leader in scissor lifts for decades, Skyjack continues to specify its machines for class-leading rough terrain performance by making the SJ6832 RTE the first electric scissor lift in its size with 45 percent gradeability and crossover symmetrical four-wheel drive as standard. Foam-filled nonmarking tires, near-zero noise levels, zero emissions and the tightest turning radius in its class make the transition from outdoor to indoor jobs easier than ever.
Preserving the Skyjack "simply reliable" methodology, the SJ6832 RTE is designed with relay driven controls. Combined with the standard Skyjack colored and numbered wiring system, this allows service technicians to easily diagnose control system faults and rectify the problem with common automotive style relays that are readily available. The RTE is also equipped with optional auto-leveling outriggers to allow elevating on uneven grades and can be fitted with a range-extending external generator to recharge the batteries in the field.
The range-extending gasoline powered genset option adds versatility to the SJ6832 RTE, allowing it to be reliably used at green field construction sites with no AC power, or when multiple shifts do not allow sufficient downtime to complete a standard charging cycle. The generator can either be manually controlled from the platform or set to come on automatically at 50 percent battery capacity. Mounted on a rotating and tilting table, the generator option packaging allows for easy oil, filter and spark plug changes, all without removing it from the machine. The SJ6832 RTE offers the ability to have a zero fuel emissions lift without sacrificing any of the simplicity of use, ease of maintenance, return on investment and rough terrain performance users have come to expect for years from Skyjack. See the new SJ6832 RTE at ConExpo where Skyjack will have one on display at booth 1837 in the Gold lot.
Company info
Related products
Related Articles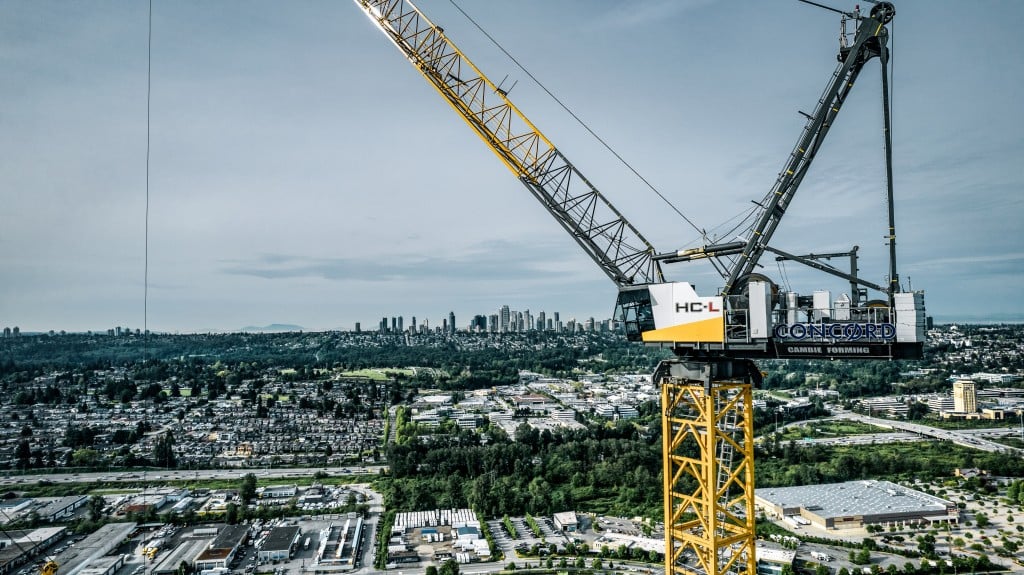 Cambie Forming to build 56-storey Burnaby residential building using newly bought Liebherr tower crane