Cost-Saving Cat Grade Control Standard on New 323 Excavators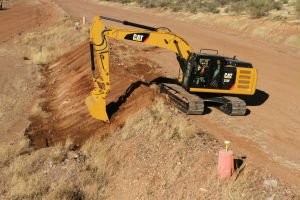 New Cat 323 excavators will come equipped with fuel- and labor-saving Cat Grade Control as standard equipment. The technology is a factory-integrated system that helps operators get to grade quickly, efficiently, and accurately using real-time positioning and cut-and-fill data that is displayed on the standard cab monitor. The system helps the excavator operator get digging and slope work done right the first time to save money on fuel and materials, and it minimizes the need for a grade checker and other support equipment. Bottom line, it will improve overall job site efficiency.
"We've offered Cat Grade Control as an option in the past, but with more and more customers asking us to help them lower their operating costs, we decided to make this technology standard on the 323 excavator," says Zach Kauk, worldwide product manager for Cat 11- to 35-ton (10- to 32-tonne) excavators.
From an operator point of view, the technology is easy to understand and use. The operator simply references a vertical starting point to "benchmark" the system—either by touching a known point like a hub or stake or by slowly dropping the stick until the laser catcher detects the laser beam. Then the operator enters the target depth or slope values from the benchmark into the display. Sensors measure boom, stick and bucket movements, and the display indicates just how much up or down is needed to reach the target grade. For customers who want even greater accuracy and efficiency, the system can easily be upgraded to 3D capability through the local Cat dealer.
In a recent production study comparing an excavator with and without Cat Grade Control, the machine with the technology burned approximately 6 percent less fuel doing the same amount of work."Over the course of a year, that reduction in fuel will add up to thousands of dollars of savings," said Kauk. "When you include savings from not needing a grade checker or spotter or reducing the need for support equipment on the job, the savings are significant."
Cat Grade Control will become standard equipment on the most popular configurations of the 323 excavator in North America and Europe in late 2014. For more information about this fuel- and labor-saving technology, customers should talk to the local Cat dealer. Visit cat.com to find the local dealer.