JCB To Launch New Products, Host Fun Activities And Offer Exciting Giveaways At ConExpo 2014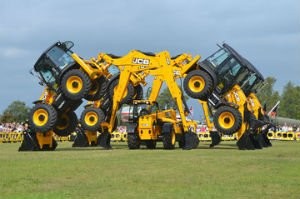 CONEXPO only takes place once every three years, and JCB plans to make the most of the 2014 event. In addition to launching a number of exciting new products, JCB will also host a number of activities, giveaways and show specials at its outdoor stand, #1559 in the Las Vegas Convention Center's Gold Lot.
JCB's world-renowned Dancing Diggers stunt team, a "down-to-earth" version of the Blue Angels, will be pushing their backhoe loaders to the limit with six shows daily, Tuesday, March 4 through Friday, March 7. Show times are 9:45 a.m., 10:45 a.m., 11:45 a.m., 1:45 p.m., 2:45 p.m. and 3:45 p.m. The team will also perform on Saturday, March 8 at 9:45 a.m., 10:45 a.m. and 11:45 a.m. The Dancing Diggers have performed in front of thousands over the years, and they are truly a sight to behold as they demonstrate the JCB backhoe's remarkable maneuverability, precision and power.
Visitors to the JCB stand can also register to win a 12-month-free rental of a JCB compact excavator, skid steer loader or compact telescopic handler. One winner will be selected each day on Tuesday, March 4; Wednesday, March 5; and Thursday, March 6. Watch for the "#FREEJCB" hashtag on JCB's social media networks to stay up to date on all the details.
CONEXPO is known as an international showcase for the latest construction equipment, products, services and technologies, and JCB will be unveiling a number of its latest innovations there. Among the highlights:
An all-new entry-level 3CX backhoe loader designed especially for large fleet owners and rental dealers.
Four telescopic handlers: the 525-60 Hi-Viz Telehandler with compact size and outstanding operator visibility, the 540-200 Telehandler offering North America's highest reach at 66 feet, the high capacity 560-80 for heavy-duty industrial applications and the 516-42, JCB's first 16,000-lb-capacity telehandler with a lift height of 42 feet.
The first three models in JCB's new midi compact excavator range—the 67C-1 and 86C-1 conventional tail swing (CTS) models and the 85Z-1 zero-tail swing (ZTS) model.
Also in the spotlight at CONEXPO will be machines that JCB has recently updated with its unique Tier 4 Final engines that do not require diesel particulate filters (DPFs) or exhaust aftertreatment. These machines include the small platform skid steer and compact track loader range; TLT 35D 4x4 Teletruk; Rough Terrain Forklift range (RTFL); and 407, 409 and 457 wheel loaders. Thanks in large part to their Tier 4 Final engines, these machines use less fuel without sacrificing performance or innovative design.
Buyers can enjoy 0% financing for 48 months on skid steers and compact track loaders, 0% financing for 60 months on large excavators (14-36 tons) and 0% financing for 72 months on all other JCB equipment. Attachments are 20% off during the show, and genuine JCB filters are 15% off.