Screencore combines stockpiling and screening capabilities into one machine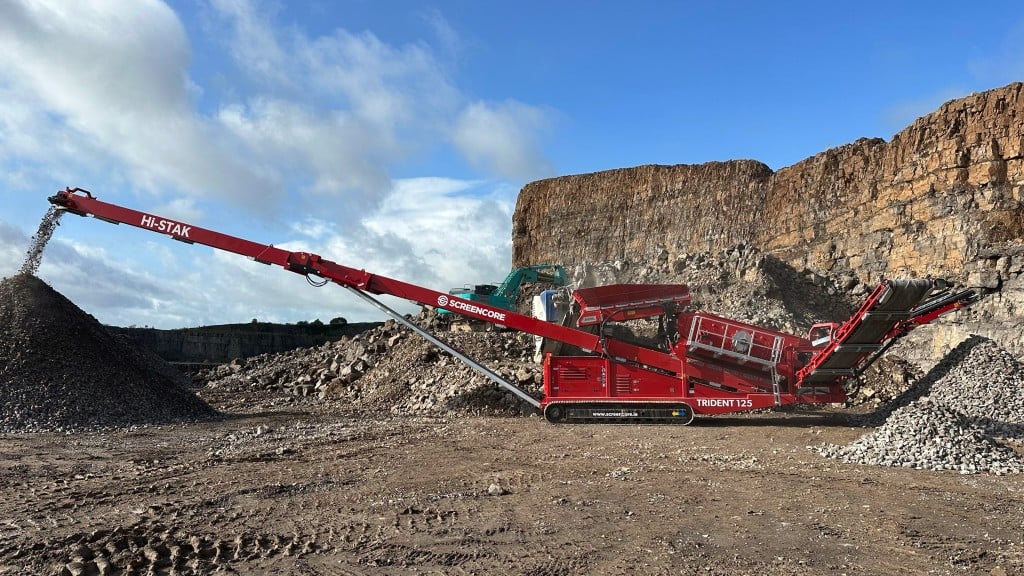 Producing accurately sized aggregates and massive stockpiles of material is essential to any mining, quarrying, recycling, and demolition operation. To aid stockpiling, mobile screens often have an integrated stockpiling conveyor, but these conveyors are often compact and need to be augmented by a separate stockpiler. This is inefficient and expensive and can lead to lower production.
To overcome the issue of needing two separate machines, Screencore has combined screening and stockpiling with the new Trident 125 Hi-Stack. This combination means that producers do not need to rely on two machines to get the job done.
Screencore is a manufacturer of screens, crushers, stockpilers, and more. The manufacturer is based in Northern Ireland and makes it a point of pride to listen to user requirements and concerns. Screencore focuses on manufacturing mobile and compact machines for producers and recyclers that need a transportable unit. on their job sites.
Screencore stockpilers have been designed to boost operational productivity – and the Trident 125 Hi-Stack is no different. The machines in Screencore's stockpiler range have been developed to work on their own or alongside Screencore's – and other manufacturers – ranges of crushers, screens, and trommels. The conveyors are designed to be transportable and durable, offering features such as twin drives, check valves, and hopper feeders. The stockpilers have been developed to handle material on any construction, surface mining, quarrying, or recycling, operation.
Screencore says that its Trident range of scalper screens is known globally for toughness and adaptability. Machines in the range are designed for scalping and precision screening, utilizing a large screen area. The scalper screens can withstand a vast amount of materials.
To combine the attributes of precision screening and scalping with large material stockpiles, two pieces of equipment are required: a screener and a stockpiler. The Screencore Trident 125 Hi-Stak has combined stockpiling and scalping screening, combining the benefits of an advanced scalper screen with the stockpiling capabilities of an advanced stacker.
"Being able to produce high quality accurately sized aggregates is essential today, whether it's materials from a surface mine, quarry, or an aggregate plant, or recycled construction materials from highways, demolition, or recycling operations. The Screencore range of scalper screens has developed a reputation for advanced screening globally, being tough, productive, environmentally friendly, and accurate," explains Screencore Director Ciarán Ryan.
"Likewise, the Screencore range of stockpilers has been developed to deliver huge stockpiles of materials, working with their own on-board power unit, or powered by a crusher, screen, or plug-in mains or genset," continues Ryan. "Material stockpiles result from screening and/or crushing, with a large size of stockpile being considered essential for efficient and productive operations. With this in mind, and based on customer feedback, we decided to combine stockpiling and screening excellence into one machine. The result is the New Trident 125 Hi-Stak, which we believe is a game-changing development."
Ryan says that the Trident 125 Hi-Stack is in a class of its own, combining a primary screen with the benefits of a 24-metre stacker. Getting two machines in one results in carbon emission reductions, fuel savings, and the elimination of the need to double-handle fines.
"Whether it's within the confines of a quarry, sand, and gravel operation, or dealing with soil and mulch, its capacity to effortlessly screen and stockpile large quantities of fines without necessitating double-handling or the creation of a wheel-loader stockpile is hugely beneficial," continues Ryan.
The Hi-Stak is now available for shipping globally.
Technical details of the Trident 125 Hi-Stak
Cat 3.6 Tier 4, Stage V 100kw
3,700 millimetre by 1,550 millimetre top and bottom deck screenbox
1,100 millimetre wide heavy 4-ply feed belt
1,200 millimetre wide fines conveyor with twin OMV500 drives
1,200 millimetre heavy chevron overs belt
800-millimetre chevron middles belt
Check valves on lift rams
4,700-millimetre tracks
31,000 kilograms
Fixed catwalks both sides
Available in dual-power
Transport width 3094 millimetres