Specially designated technology support for Komatsu's Line of intelligent Machine Control (iMC) Dozers Technology Solutions Expert for iMC Family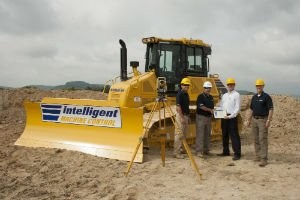 To provide ongoing support for its family of intelligent Machine Control (iMC) dozers, Komatsu America distributors have specially-trained Technology Solutions Experts (TSE) on staff. Every customer who purchases a Komatsu iMC dozer has the support of a TSE, based at the distributor. The TSEs are supported by the dedicated intelligent Machine Control team at Komatsu America Corp.
"Introducing and providing a dedicated support position for our iMC machines exemplifies the kind of service that our customers have come to expect from Komatsu," said Jason Anetsberger, iMC Product Manager, Komatsu America Corp. Each Technology Solutions Expert must undergo an extensive training program and is directly certified by Komatsu America before working as the TSE for a Komatsu distributor. The primary role of the TSE is intelligent Machine Control product training and support.
Bill Hankins, a TSE for The Lyle Machinery Company in Columbus, MS says, "As the TSE for my company, I'm the one contact for our iMC customers. I've received extensive training from the Komatsu factory, and I'm the expert who goes out in the field to work with customers. I also serve as the primary contact for any questions our iMC customers might have."
Hankins continues, "When you purchase this machine from Komatsu and your local dealer, you're not just buying a machine. You're buying a support package that has very well-trained people lined up from coast-to-coast and border-to-border who are there whenever our customers need us."
In the past—without integrated iMC technology—if a customer encountered a problem or issue related to the machine or its grading performance, they had multiple contacts for support and input. Customers who purchase a Komatsu machine with intelligent Machine Control technology now have the ease of a single primary contact (their TSE) for any questions and support.
With fully automatic blade control, Komatsu iMC dozers perform rough dozing as well as finish grading in automatic mode. When rough dozing, the automatic blade control monitors blade load and adjusts blade elevation to minimize track slip and perform high-efficiency dozing. As work progresses to the target finish grade, the automatic blade control adjusts accordingly to provide finish grade performance.
Following its successful launch of the D61i-23 in 2013, Komatsu recently introduced three additional iMC dozers into the North American market including the D51i-22, D39i-23 and D37i-23. The company now offers four different size iMC dozers.
Jason Anetsberger of Komatsu America concludes, "The included value of a Technology Solutions Expert, in addition to the added intelligence, innovation and integration available in these dozers significantly increases the value proposition, for both existing machine control users and new machine control users."