Connect asphalt rollers and collect data to improve current and future jobs
BOMAP Connect allows operators to see the compaction condition of asphalt jobs in real time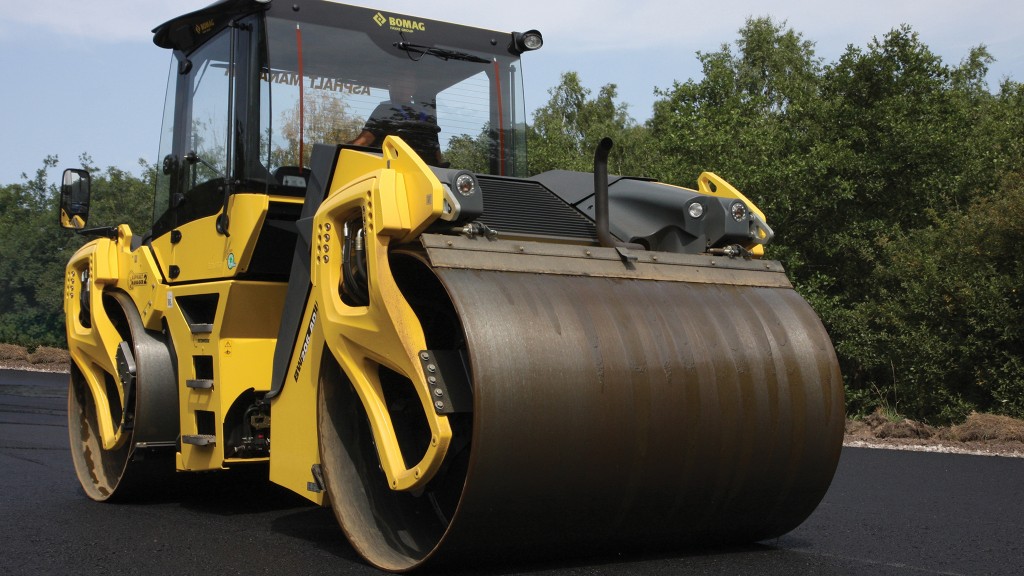 Modern asphalt rollers can incorporate technology that guarantees paving jobs meet strict specifications for compaction and smoothness. Connectivity between machines is becoming an increasingly important part of the process.
Connected rollers that share information across a job site can complete their work faster and with better results. At the same time, the data collected by each roller can be stored, analyzed, and used in many ways – as part of future bids, for quality control purposes, and for training new labour.
Interest in connected compaction is growing
For BOMAG, connected compaction has grown steadily over the past several years. It started with the BOMAP app, providing users with access to various equipment and project details. It expanded with BOMAP Connect, which brings the entire compaction equipment fleet together.
Chaunce Edwards, product manager with SMS Equipment, explains that BOMAP Connect aims to ensure that roller crews reach their target density and compaction levels across each project in a user-friendly manner. Based on an Android tablet and a downloadable app, this brand-agnostic system uses sensors on the BOMAG machine – and other brands – to collect data.
"Historically, operators would rely on experience or have a foreman who would say they had to hit a certain area five or six times to reach their target," Edwards describes. "What the BOMAP system does is . . . as we're compacting an area, it will paint out a grid and determine how many times you have been over a certain area."
As rollers move across those locations, the colours on the map change, providing operators with a visual indication of the compaction quality in those areas. A ten-point scale is used to determine the level of compaction – a 7 or 8 is a good target, while a 10 is over-compacted.
Knowing the level of compaction on each part of the job site ensures neither over- nor under-compaction takes place. The result, Edwards says, is that you burn less fuel and reduce the environmental footprint of the job. Costs are reduced, and overall efficiency is improved.
Live compaction data can also help you recognize potential problems before they occur. Edwards offers the example of a roller crew that can reach a compaction level of 8 across most sites but only a 4 in a particular location. This may be an indicator of a failing utility below the road or a problem spot in the gravel base that should be investigated before the job is completed.
When set up on a tablet in the machine, BOMAP Connect uses the tablet's GPS signal to plot the machine's location. Accuracy can be improved by adding a GPS antenna to the machine, giving position accuracy up to 20 centimetres. This is more than enough accuracy for a roadway or similar project, Edwards says. Millimetre accuracy can be achieved by connecting to base stations on the site.
"Most of our customers have found that the 20 centimetre accuracy works for them. Generally, we are overlapping passes slightly anyways to ensure overall coverage," he notes.
Data provides quality control snapshot after completion
The second benefit of BOMAP Connect, once the job is complete, is that fleet managers have a vast amount of data that was collected during the compaction process available for processing and analysis. This includes pass counts, temperature, and other factors that affect compaction quality. With that level of knowledge, it is possible to review jobs and then pass along details to project owners and regulatory bodies as needed.
You can also use the system in conjunction with a Troxler measurement device determining the correct number of passes in a test strip. Mix designs have different rolling requirements depending on materials and temperatures. The result is a much more precise awareness of how many passes must be done to hit targets without needing someone to check compaction quality behind the rollers on site.
As the job is underway, data is uploaded to a cloud server that allows users off-site to review progress within a few minutes in real time. If the crew needs to move to another job for a few days, they can then go back, log in through the cloud, and quickly pick up where they left off.
That data is then available after completion for further review or sharing with the end user. Many provincial and municipal agencies are requesting more data for analysis as they work toward understanding the most efficient and environmentally friendly approaches to road construction.
"They want to see the jobs are completed as best as possible, and they also want to see that they're completed as efficiently as possible," Edwards says. "Trying to lower CO2 emissions is probably more of a driving factor currently, but in the cities . . . we're starting to see interest in quality control for jobs completed by these contractors."
That data can also be used to prepare bids for new contracts, showing how previous jobs were completed and providing you with a greater opportunity to succeed.
Connected compaction gives you more peace of mind
The use of connected compaction systems like BOMAP Connect will improve fuel efficiency and shorten completion times. They can also assist in other ways, such as with the challenge of a changing workforce.
Skilled workers with rolling experience may be leaving the industry, but there is potential for easier training of new operators using these tools. "Contractors can potentially hire a less skilled labour force at the forefront and then use this system to train them," Edwards says.
The growth of data collection in compaction provides contractors and end users with a more remarkable ability to confirm that a paving job meets the proper specifications, Edwards says. "It gives peace of mind – as a job is completed, you can see that we did indeed hit all these areas, and everything is compacted. We won't have any callbacks, and I won't have any rework to do."