How safe, speedy, and versatile side dump trailers bring fleets success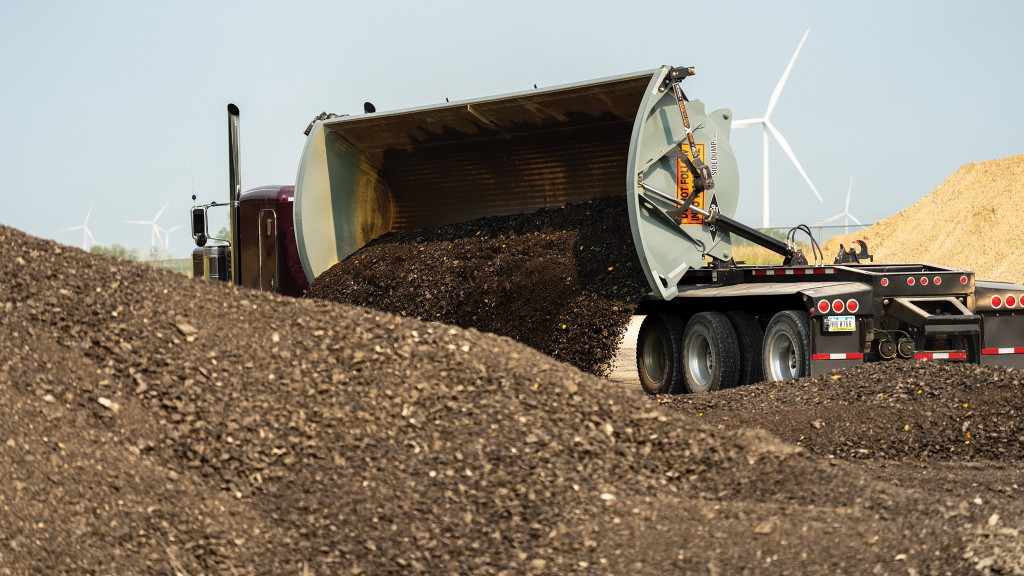 Earthmoving, construction, and aggregates operations all need to move vast amounts of material onto, around, and away from their job sites to successfully complete contracts. Dump trucks are the usual choice for that role, but for fleet owners, there is another option to consider – one that can offer more capacity and versatility when it's needed.
Side dump trailers are popular in quarries and on some large construction sites for their speed and ability to safely handle many types of material. A selection of trailer sizes and capacities, combined with a low profile and reduced maintenance, make side dumps a versatile option for fleet owners to consider.
Side dump design adds safety and reduces wear
Built on dedicated frames available in varying axle configurations and sizes, side dump trailers hook up to a truck with a fifth-wheel connection. Available in A-trains, B-trains, and other custom applications, side dumps do just what the name says: dump to the side of the truck, rather than to the end.
That side-to-side motion is where these trailers differentiate themselves from end dumps, says Duane Myears, district sales manager with SmithCo.
"This eliminates wearing of the floor, which happens in typical end dumps. As you start the dump motion, the stuff on the top starts falling off, so the whole load doesn't slide. Side dumps don't wear the steel like a typical end dump," Myears explains. "The tub is watertight, so you can haul a varying array of material, from sand as small as powder concentrates all the way up to big landscaping rock or rip-rap. If you can get it into the tub, you can haul and dump it."
The design of a side dump trailer makes it safer in locations with overhead barriers, where standard dump trucks could be problematic.
"During the dump cycle, because the load dumps to the side, the top of the tub is only up to around 11 feet off the ground. You don't have to worry about power lines or tree limbs," Myears says.
In addition, dumping is faster. "You pull into your dump site, turn your PTO on and hit your dump switch, dump the load, and bring the tub back to the frame in 26 seconds," Myears describes.
Stable and safe operation
While there are several ways in which side dump trailers can improve a hauling operation, Myears points to improved safety as an important benefit. The ability to avoid overhead obstacles is just a starting point for added safety when using a side dump. The ability to handle all the needed operations from within the cab means drivers are less exposed to bad weather and slippery conditions.
"You don't get out of the truck, so there's a safety factor that prevents drivers tripping on their steps or sliding around in inclement weather. You pull up and do everything from the driver's seat," Myears says.
The side dump motion improves stability and safety overall, allowing the opportunity to dump on uneven or soft ground. It can even be used to create windrows by dumping on the move.
Maintenance is also safer, and easier, than other types of haul trucks or trailers. All grease points for the trailer are accessible from ground level, including the hydraulic cylinder and dump body pivots. That reduces downtime while keeping drivers and mechanics clear of potential harm.
Another benefit of side dump trailers is the wide array of materials that can be hauled compared to traditional dump trucks or end dump trailers. Many side dumps are in use at aggregate and mining sites, where they often handle large material sizes. This makes them more capable than end dump or belly dump units, Myears says.
"With a belly dump you can only haul so large of an aggregate - it can only be so big because you're driving over the pile, it would get stuck in the hopper, or you would pull your axles over it and damage suspension parts. If you get large or odd-shaped pieces, a lot of times they'll get hung up in an end dump and won't slide out. In a side dump, if you get it in there, you can dump it out."
In B.C., many side dumps are used at mine sites to haul concentrate. The trailers work well as they can be fitted tightly with sealed tarps, keeping the valuable product dry and enclosed.
In uses such as road construction, where the old road surface is broken up and hauled away for recycling, side dump trailers can carry larger pieces of material speeding up the process. Plus, Myears notes, the truck can then haul fill dirt back to the site, windrow material for edging, and handle other tasks.
SmithCo has specific models of trailer for demolition, while land clearing operations can use side dumps effectively for hauling tree limbs and trunks in larger pieces, cutting down on labour. Municipalities use side dumps to haul sludge from wastewater treatment plants, taking advantage of their watertight nature to avoid leaks.
Versatility in carrying capacity and tasks
Variable tasks and regional regulations match up well with the available side dump trailer design variations. SmithCo, one of the earliest manufacturers of side dump units, has trailers ranging from two to seven axles.
A-train and B-train units add capacity in regions where they are legal for use, Myears says. The result is the ability to customize a trailer system that maximizes the amount it can carry within local requirements.
Using side dump trailers as opposed to dedicated trucks means fleet owners can use multiple trailers with a single truck, reducing overall expenses.
"They can pull a lowboy, they can pull a flatbed, then they can hook onto the side dump. It's another tool in their arsenal," Myears says. "You get a side dump for one application, say 'this is what I'm going to use this for,' and pretty soon you find other things it works for, and it snowballs."