2023 spec guide: excavators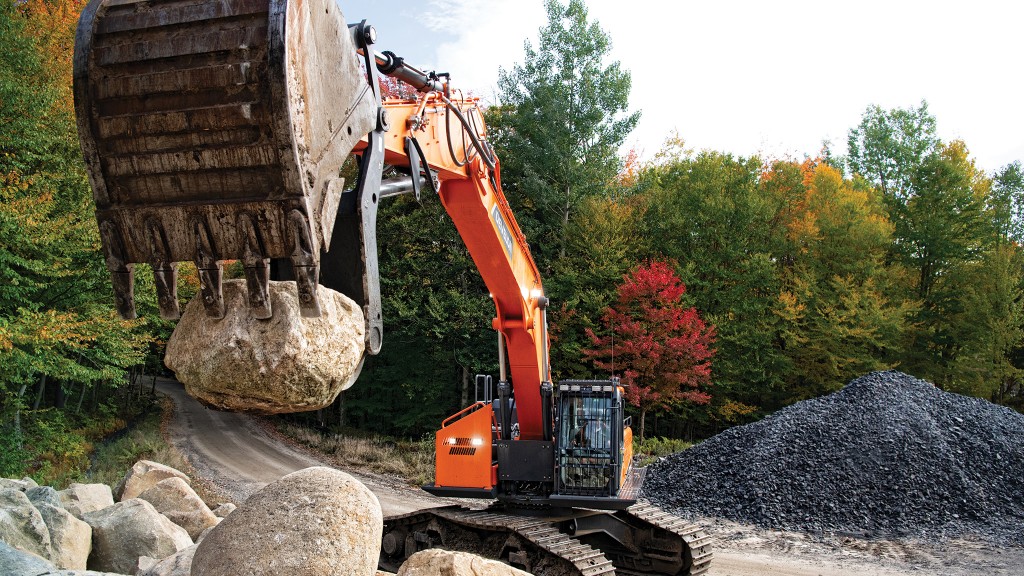 Look around any construction site, whether massive roadworks or a small corner lot, and you'll see them: excavators. These tracked multitaskers are the workhorse of construction – they are powerful, mobile in a range of conditions, and capable when it comes to tasks from excavation to lifting to loading. Machines in the 20- to 50-ton range provide sizes and configurations to fit the needs of most contractors. Swap buckets or add specialty attachments and excavators become even more versatile tool carriers – which has become easier thanks to advanced hydraulic systems. With continuing innovation and constant growth in the use of technology, such as machine control, today's excavators cost less to operate while getting more work done. Here is a look at excavator models in the 20- to 50-ton range.
John Deere Construction & Forestry
John Deere offers a line of models engineered for a range of tasks. Some John Deere excavator models come equipped with a mechanical quick-coupler and auxiliary hydraulics, allowing operators to utilize a wide range of machine attachments. Select models are also available with John Deere SmartGrade technology, which enables operators to automatically complete grading tasks faster with fewer passes and less rework. Some large excavators from John Deere also come with features such as reduced-tail-swing, hydraulic single-pedal propel system, and short-throw pilot levers with smooth fingertip control.
Featured: 350 P-Tier
The John Deere 350 P-Tier excavator offers SmartGrade technology that allows operators to quickly and confidently achieve grade with limited downtime. Serviceability is enhanced in the 350 P-Tier, which is equipped with front LED work lights and a large hood design.
Komatsu
Komatsu excavators feature fast cycle times, multifunction motions that are easy to achieve, precise bucket movements, and solid lifting capacity. They also have available options that incorporate Intelligent Machine Control, Komatsu's innovative integrated advanced automation technology.
Featured: HB365LC-3
Komatsu's hybrid HB365LC-3 excavator provides up to 15 percent more productivity in P mode (compared to the Komatsu PC360LC-11). Offering environmentally friendly operation, it can deliver up to 20 percent greater fuel efficiency with up to 20 percent lower CO2 emissions. The HB365LC-3 is comfortable to operate and has a 7-year, 15,000-hour transferable warranty on hybrid components.
Volvo Construction Equipment
Volvo excavators are built to keep uptime high and total cost of ownership low, with features like a premium undercarriage with X-style chassis and heavy-duty guard plates, a reinforced idler frame, easy-access service points, extended oil intervals, and a lifetime frame and structure warranty. Intuitive work modes ensure maximum power with minimum fuel burn, while the Volvo Dig Assist machine control system helps deliver accuracy. Volvo cabs are comfortable, with a deluxe adjustable seat, Bluetooth functionality, and a HEPA cabin air filter.
Featured: EC200E
The EC200E is a 20-ton excavator for medium-duty applications such as building, utilities, and road construction. Its design features a robust boom and arm, strong undercarriage, protected components, and heavy counterweight. Compatibility with a wide range of attachments increases versatility and cycle times.
Caterpillar
Cat excavators offer technological improvements, versatility across industries, and the ready support of a large dealer network. Cat's standard technology integrations of 2D Grade, Payload, and E-Fence, along with optional 3D Grade, People Detect, and Cat Command, provide operators with an intuitive experience on the job site. Cat excavators offer increased safety, fuel efficiency, and lower costs per hour. Caterpillar also offers a large range of excavator model configurations with a wide variety of attachments, making them adaptable to a diverse array of projects and industries. Cat's global dealer network ensures reliable support, service, and genuine parts.
Featured: 340
The Cat 340 excavator features high payload capacity, increased engine power, and low operating costs, all ensuring the 340 is efficient in heavy-duty earthmoving. Its reinforced frame is built with a wide undercarriage and robust counterweight for longer machine life and performance in challenging work environments.
DEVELON
DEVELON -7 Series excavators are productive and fuel efficient. They feature added comfort features, intelligent controls, and smart machine functionality. Updates to -7 Series excavators include a strengthened work group with reinforced castings and forged steel pivot points for withstanding high-impact work. A new Y-shaped seal at the end of the excavator arm provides better sealing to the bucket connection for more performance and durability. Additionally, added material on the excavator's main frame provides more performance.
Featured: DX225LC-7
The DX225LC-7 excavator is suited for demanding work. Fuel efficiency systems, including D-ECOPOWER, reduce the cost of ownership. Precise operation comes from a fine swing function, minimizing the shaking of a lifted object. Comfort features include a Smart Touch display, ergonomic joystick controls, and an optional heated/cooled seat.
Hyundai
Hyundai's full line of excavators include a variety of features that focus on efficiency. The incorporation of load-sensing hydraulics ensures optimal power distribution and cuts fuel use. Hi MATE Telematics provides real-time data insights, allowing operators and fleet managers to make informed decisions. Meanwhile, the inclusion of cylinder guards safeguards vital components. Hyundai equips excavators with advanced standard features, such as hydraulic quick couplers and adjustable flow control from the cab.
Featured: HX520AL
With precision, force, and advanced telematics, the Hyundai HX520AL excavator is suitable for a diverse range of projects. With reduced emissions and high durability, this large crawler excavator features a 395-hp engine and has a maximum dig depth of 25 feet. It is designed to be rugged and reliable, leading to greater uptime.
CASE Construction Equipment
New CASE E Series excavators improve operator experience while reducing total cost of ownership. They feature seven models and two new classes for any size and type of job site. Operators can access on-display machine performance information along with cameras that have 270-degree bird's eye visibility. Hydraulics are fully customizable. Models feature an operator interface with 10-inch LCD display and smart joysticks, both with customizable buttons, which give operators greater control over their machines, greater precision, and better performance.
Featured: CX365E SR
The CASE CX365E SR is a minimum-swing excavator that brings heavy earthmoving power and skill to tight working spaces. With a 10-inch LCD control centre display and customizable hydraulics, this 78,600-pound excavator combines big productivity and high quality operator experience.
Link-Belt Excavators
Link-Belt Excavators has launched the X4S Series, which is designed to be robust and productive. The line is equipped with technologies to improve cycle times and fuel consumption while cab comfort and safety remain important. A key feature of the X4S Series is Custom Flow Balance with four work modes, optimizing flow of hydraulic fluid to increase efficiency. The cab is spacious, with a 10-inch portrait monitor and WAVES 270-degree camera system that provides the operator with a broad view of the worksite. Dual LED cab lights are standard, and the new hydraulic oil sampling port requires no tools.
Featured: 220 X4S
The 220 X4S offers technology solutions that improve productivity, safety, and monitoring capacity. Dynamic Stability Assist, Free Swing Maneuverability, Height and Depth Alarm, Payload, and Digital Level are all standard on the model. It is suited for roadbuilding and maintenance, excavation, site prep, and similar tasks.
Liebherr's goal with its generation 8 crawler excavators is to provide customers with higher performance and more comfort. Highlights of this new generation of crawler excavators include increased engine power, a heavier counterweight enabling larger bucket capacities, and minimal fuel consumption. Liebherr has reimagined the boom with a refined head for improved boom forces and has optimized the load curve - all contributing to fuel savings.
Featured: R 945 Litronic Generation 8
Replacing the former R 950 SME, the new R 945 crawler excavator has undergone a revitalization to elevate comfort, enhance ergonomics, and amplify performance. It features more engine power, at 299 hp, and a bucket capacity that ranges up to 3.92 cubic yards. Optimized hydraulics reduce cycle times significantly.
JCB
The JCB X Series excavator line features the CommandPlus cab, which offers seat-mounted controls and an 11-vent HVAC system. Advanced hydraulics and a customizable valve make these excavators precise, especially with attachments, thanks to the Advance Tool Select (ATS), which supports up to 10 pre-programmed tools. Enhanced hydraulic infrastructure also improves speed and fuel efficiency. Excavators in JCB's Yellow Series come standard with rear-view cameras and dipper limiters. The JCB LiveLink telematics system offers additional support for the operator, providing real-time machine health data and security features such as geofencing and curfew alerts.
Featured: 220X
The 220X is a 20-ton excavator driven by the EcoDieselmax engine for rugged performance in challenging environments. It provides tailored precision with adjustable controls, speeds, and attachments. The cab is comfortable and provides the operator with plenty of space, minimal in-cab noise, and customized climate options.
LiuGong
LiuGong excavators feature both factory-produced hydraulic quick coupler lines and additional Kawasaki hydraulics that enhance usability. Inside the cab, operators can use the LCD touchscreen with features such as jog dial, passcode start, fault codes, maintenance reminder, and brightness control. According to LiuGong, these machines have been designed with a focus on operator comfort.
Featured: 936F
The 36-ton LiuGong 936F excavator builds on the previous generation 936E as one of the large excavators in the LiuGong product portfolio. With an 8.9L turbocharged Cummins engine and extensive digging depths, LiuGong says operators can maximize their performance with this machine.
Hitachi Construction Machinery Americas
Hitachi ZAXIS-7 excavators feature larger cabs with increased head clearance for operator comfort and reduced fatigue. A one-touch adjustable air suspension seat is synchronized to move with the console. Noise has been minimized by increasing the thickness of the rear glass. Improved airtightness of the cabs keeps the dust out. Hydraulic system efficiency on the ZAXIS-7 excavators allows optimized performance while reducing fuel consumption. ConSite telematics now offers ConSite OIL, which monitors engine and hydraulic oil conditions to proactively catch issues, and ConSite Air, which allows the excavator to be diagnosed remotely. Software can also be updated remotely.
Featured: ZX210LC-7
The ZX210LC-7 is a powerful, fast, and precise machine for diverse applications. The next-generation TRIAS III hydraulic system reduces fuel consumption while optimizing performance. The three-pump system provides quick response to all control inputs while minimizing hydraulic losses.