JLG connectivity system digitizes daily processes and provides actionable machine insights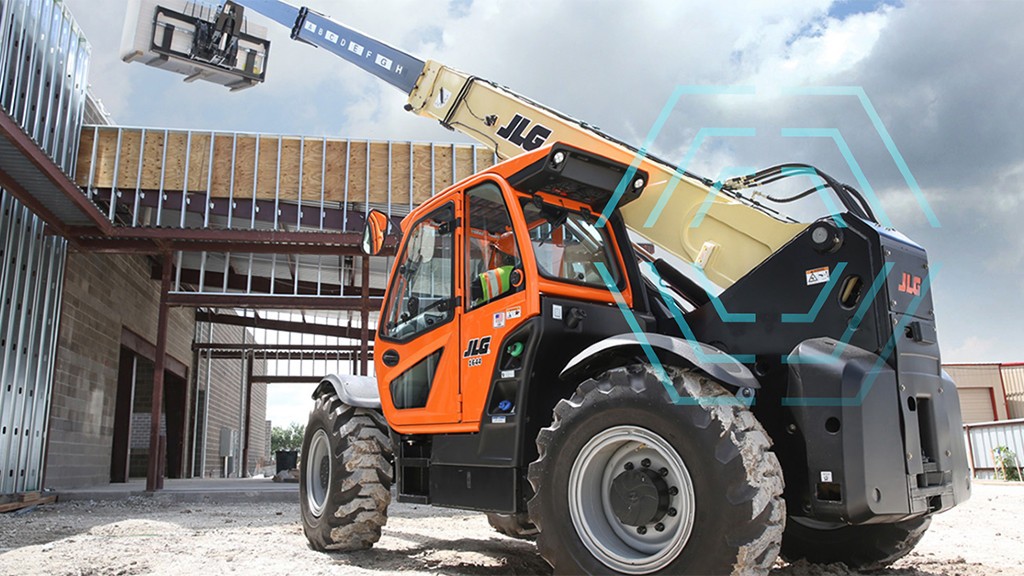 JLG Industries, Inc. now offers ClearSky Smart Fleet, a two-way fleet management and communication platform, as standard on most new JLG equipment. This IoT technology launches with 25 features, including analyzers, telematics, and productivity applications, into a single connectivity beacon on JLG machines for back-and-forth interaction through the ClearSky mobile app. Equipment owners and operators can send a prompt to the beacon to identify a machine's status or perform diagnostics wirelessly through the mobile app.
Ara Eckel, director of product management for JLG's connected solutions, says that ClearSky Smart Fleet is a two-way communication platform that turns one-way data into two-way connectivity.
JLG's ClearSky app
The new ClearSky Smart Fleet app provides a mobile platform to manage data and machine interaction, even when cellular data and Wi-Fi are not available. For example, key features of the mobile app include:
Find My Machine: This feature activates audible and visual cues from the machine to make equipment identification and location effortless. "With ClearSky Smart Fleet, equipment owners and operators can light a specific machine's beacon or honk its horn with the tap of a screen," says Eckel.
Machine status indication: Visual cues from the machine allow equipment owners and operators to wirelessly identify a machine's status, such as active diagnostic trouble codes (DTCs), battery or fuel level, ignition, and more.
Digital analyzer: Perform diagnostics wirelessly with the built-in analyzer functionality that replaces the JLG wired handheld analyzer.
Digitized information: Access to targeted information, such as parts and technical manuals, to help solve service issues without moving a step.
Digital analyzer reader: A soon-to-come one-page summary shows a machine's set-up, personalities, diagnostics, and fault log data, which can be downloaded and shared.
ClearSky web portal
The ClearSky Smart Fleet web portal delivers clear navigation and features for immediate visibility into a fleet's health and performance data. To help digitize daily processes, the web portal features include:
A dynamic dashboard: Display as much data as needed through a dynamic, action-oriented dashboard. "Whether a fleet view or individual model view is wanted, powerful filters and tailored customization, including drag-and-drop window widgets allow any role to prioritize the actionable insights necessary to maximize productivity and ROI," says Eckel.
Machine level data: Access to specific serial numbers and asset ID data, such as interactive schematics, knowledge articles, technical manuals, and parts information, can be done in seconds.
Export: Generate reports and export the overview dashboard as a PDF or Excel file.
Unified login: ClearSky Smart Fleet is now part of JLG's Online Express, allowing for single sign-on and access using Online Express credentials. "By integrating ClearSky Smart Fleet into JLG's Online Express service, equipment owners and operators can manage a fleet, troubleshoot machine issues, and order parts – everything they need to keep a fleet in top shape – with a single login," says Eckel.
Automatic site networks: This soon-to-come feature lets contractors receive notifications when a machine arrives at or leaves a job site using the site network feature. "Site Networks act like automated geofences," says Eckel. "When two or more machines are within range of a local connection, a site network is formed automatically, simplifying equipment tracking and reporting."
An advanced API
Equipment owners and operators can combine actionable data into a current telematics solution to manage an entire mixed fleet from a single screen, no matter where they are.
ClearSky Smart Fleet is being introduced as a phased global rollout. Contractors with existing JLG products can continue to use the legacy ClearSky program for their connected needs.