Low-carbon cement and electric trucks advance Lafarge sustainability efforts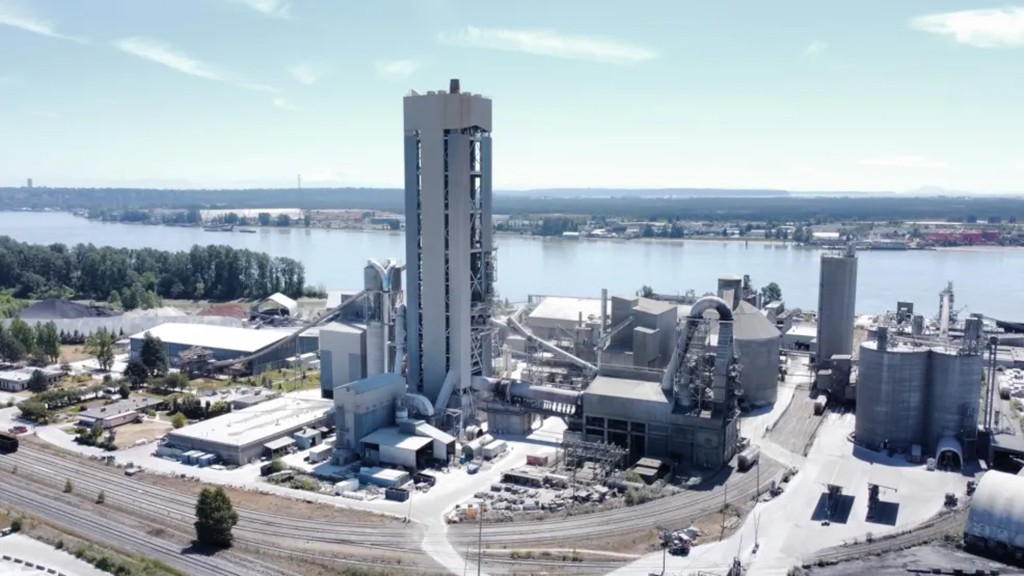 A commitment to sustainability and reduced emissions is behind two recent initiatives by Lafarge Canada: the addition of electric trucks to its fleet, and the conversion of its plant in Richmond, B.C., to produce 100 percent low-carbon cement.
The Richmond plant is now producing ECOPlanet, Holcim's brand of low-carbon cement, which offers a minimum 30 percent reduction in CO2 emissions per tonne, as compared to ordinary Portland cement.
"This is a proud moment for our organization," says Brad Kohl, president and CEO of Lafarge Canada (West). "This conversion in Lafarge's Western Canada division highlights our strong commitment to accelerating green growth. As leaders in sustainable building solutions, we take pride in having a positive impact on building solutions across its lifecycle without compromising the quality and long-term durability of our products."
Lafarge has long focused on carbon emissions in Richmond, with efforts starting in the mid-2000s. The recent conversion cements the company's decarbonization strategy and makes it the first Holcim Group cement plant, worldwide, to qualify 100 percent of its cement production as ECOPlanet. ECOPlanet low-carbon cement is designed for stringent performance while meeting high sustainability requirements. It complies with all industry standards and is suitable for various applications.
The effort was supported by the Government of British Columbia and the CleanBC Industry Fund. Through the Innovation Accelerator Fund, the Richmond plant received funding to assist with the addition of supplementary cementitious materials to cement and has been the key to decreasing greenhouse gases per tonne of cement produced on site.
Toufic Tabbara, Region Head of North America at Holcim, adds, "Globally, Holcim is a leader in sustainable building materials, and ECOPlanet is a great example of our innovative solutions. By adopting low-carbon cement processing additions like at the Richmond plant, we continue to lower the embodied carbon in our building materials."
Electric trucks roll out in B.C. operations
Another segment of Lafarge's carbon reduction efforts includes electrifying its work truck fleet. Working with Vicinity Motor Corp. and Pioneer Automotive Group, Lafarge has selected a purpose-built, custom-upfit all-electric industrial vehicle, the VMC 1200, for its needs. Designed to be versatile in aggregates and production sites, even in challenging weather conditions, the truck provides sustainable transportation for materials operations.
Lafarge Canada is placing two of the VMC trucks into its aggregates and ready-mix operations, and as the fleet expands more models will be integrated through 2024.
Lincoln Kyne, Senior Vice President, Lafarge Canada B.C. Market, states: "I am extremely proud of this industry-leading initiative with Vicinity Motor Corporation, a company rooted in British Columbia. With a proven track record in producing reliable electric vehicles that operate across North America, I am excited for the opportunity to collaborate on the design of new models for our business lines in the coming years."
Kohl agrees. "The benefits of this electrification effort are twofold, delivering cost savings and contributing to a reduction in scope 1 emissions on site. Each VMC 1200 truck is estimated to reduce site emissions related to transportation by 6,200 kg of CO2 annually, showcasing Lafarge's firm commitment to sustainability and its role in combating climate change."
William Trainer, Chief Executive Officer of Vicinity Motor Corp., added: "We are thrilled to announce this new electrification partnership with Lafarge, Canada's largest supplier of sustainable and innovative building solutions. Our VMC 1200 is the ideal vehicle to help their team advance sustainable transportation and reduce carbon emissions in the Canadian building solutions sector - helping to create a better world for everyone. We look forward to working closely with the team at Lafarge to enable their electrification journey."