Model of first steam shovel to be shown at Conexpo-Con/Agg 2014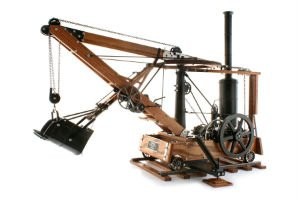 On your way to and from seeing the state-of-the-ali excavators in the North Hall and Gold Lot, take a moment to see the machine from which they all originated.
The Historical Construction Equipment Association (HCEA) is producing a 1:10 scale model of the 1841 Otis Steam Shovel. One of these models will be on display at booth L20012 at the west end of the Grand Lobby, conveniently located adjacent to the North Hall.
Designed in 1835 andpatented in 1839, the Otis Steam Shovel is the earliest known land-based single-bucket excavator. Originally built for use in railroad construction by the contracting firm in which inventor William S. Otis was a partner, it remained in production in small numbers until the early 1910s.The design concept of a rail road-mounted shovel whose boom swung approximately ninety degrees left and right was continued by several manufacturers into the late 1920s, and its digging action is seen into today 's cable- and hydraulic-operated shovels.
The 1:10 scale model features a swinging boom ,extending and retracting dipper stick, rolling wheels, and operational levers, gears, drums and bucket trip, and comes on a section of railroad track for exhibit. It is the first of a series of scale models being produced exclusively for the HCEA, and will be shown courtesy of HCEA National Director Dave Geis. Orders will be taken for a limited run of these shovels. Proceeds from sale of the models will help fund production of another model, a 1:16 scale Cletrac model F crawler tractor.
Company info