Adding electric to your fleet?
Successful integration of battery-powered equipment requires updated safety procedures and operator training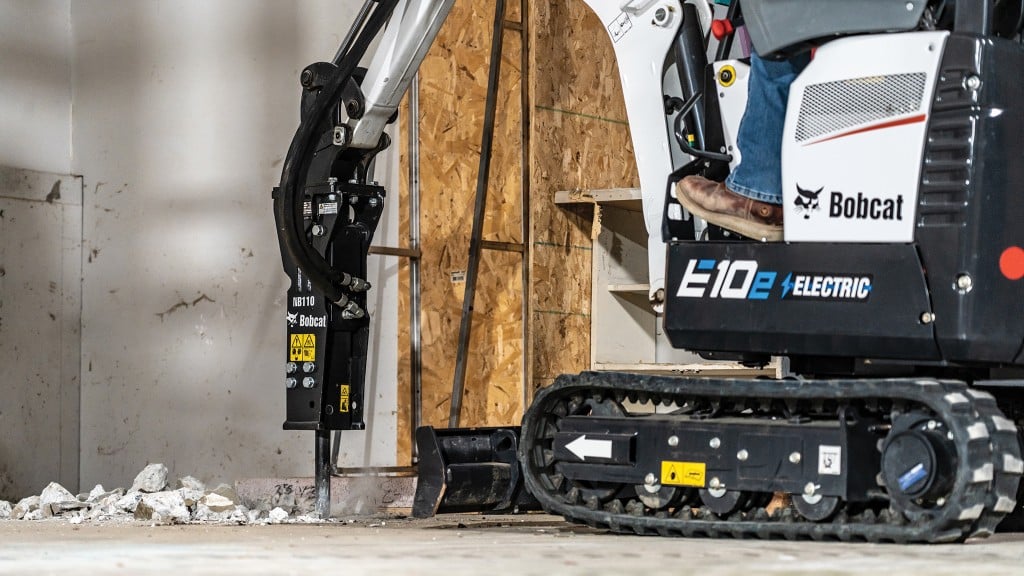 You're familiar with the sounds of a construction site. They usually include the roar of machine engines, exhaust fumes, and crews shouting to be heard. But what if one day the construction site was noise – and exhaust – free? It may sound too good to be true, but soon most equipment, from your dozers to dumpsters and compact excavators, could be battery-powered.
We love when customers start inquiring about battery-powered machines. More rental providers are investing in the latest electric equipment, which means customers have a chance to try before they buy – enjoying all the benefits of electric without the commitment. But adding electric equipment to your fleet doesn't replace the need to follow standard operating procedures, and it doesn't mean your workers are immune from injuries, or worse. Ensuring your employees have proper training on how to operate and maintain electric equipment is still the number one priority. Here are a few other considerations before you take the plunge into the world of electric equipment.
Understand how you will use the equipment
Whether you're renting two pieces of equipment or 20, choosing the right tools for the job and using that equipment to its fullest is key to a successful operation.
That's why one of the most important questions we ask customers before they rent from us is "What are you planning to do with this piece of equipment?" It may sound simple, but that one question can provide us with key information, especially when it comes to battery-powered rentals. Are you in an area where you have access to power? Do you have the right power supply? Maybe you're using this equipment indoors where you need to maneuver around tight areas. Or you could be a landscaper who wants to maximize the day by starting early to end early. No matter your situation, answering this key question can save you a lot of time and headaches.
Operator orientation and training is key
New machines need a workforce that knows how to operate them. We see electric equipment as a great option for new operators since most of it currently exists in the compact world – track loaders, small wheel loaders, and excavators to name a few. Compact equipment also requires less training time, making it easier and faster to get employees up to speed. Be sure that anyone on your site involved with electric equipment is also up to date on how to handle and maintain it. Do your safety policies include electric-powered equipment operation and maintenance? Are there rentals available for testing and training?
We have a lot of consistent training and awareness on the risks of operating diesel-powered equipment, but what about electric? Do your operators know how to safely handle a battery, respond to a fire, or know what to do if a lithium battery explodes? You may be eager to get that shiny new electric machine into your fleet, but don't forget the safety and training that goes along with it.
Make sure you have sufficient power
We recently had a customer who kept calling to say that their electric equipment was set up to charge overnight but was dying quickly when it started the next morning. A visit to the site one night revealed several machines were plugged into the same outlet and the breaker was tripping. This meant that while the machines were plugged in they weren't fully charged and resulted in a significant amount of unnecessary downtime.
The question of charging is bigger than just finding an empty outlet to plug in your machine. At a new site, there may be no electrical hookups – in those cases, machines would need to be transported to another location to charge, or a battery bank would need to be brought on-site every day to recharge machines overnight.
If you want to charge on-site, you need to identify what electrical service upgrades will be required to facilitate these additional charging loads. One solution may be working with your rental provider to set up temporary electric power. Your provider should be able to help determine the right amount of power for your site and equipment. There are also other portable charging options, which are great for smaller machines.
Consider battery disposal
Some of the biggest maintenance issues with batteries have to do with corrosion. Although battery technology has improved by leaps and bounds over the years, there are still machines in operation using old lead-acid batteries, which are more susceptible to corrosion.
Even more advanced lithium batteries contain corrosive chemicals that can catch fire or spill. Although electric machines require less maintenance overall, when they do need some work it can mean more diagnostic time compared to diesel-powered machines.
We need better industry standards for storing old lithium batteries, but until then ensure you have proper safety systems and processes in place and that your workers are aware of the rules.
Switching to electric is not always easy, or cheap
There's still a lot of work to be done when it comes to battery design, durability, power output, and charging infrastructure. Harsh working conditions such as dust, dirt, and extreme cold will require higher standards for the equipment's performance and battery housing. These conditions also pose safety and logistical challenges around maintenance and battery disposal.
Every contractor knows the right equipment can make a difference in getting the job done. But even with electric, determining which machine is best for the job can be a challenge. As battery-powered equipment continues to gain ground in the industry, it brings new questions, challenges, and a lot of learning – but it's a step in the right direction.
Debbie Mackie, regional manager, and Donna Battaglia, mechanic (Alberta), Cooper Equipment Rentals.