John Deere Primed for a Big CONEXPO-CON/AGG 2014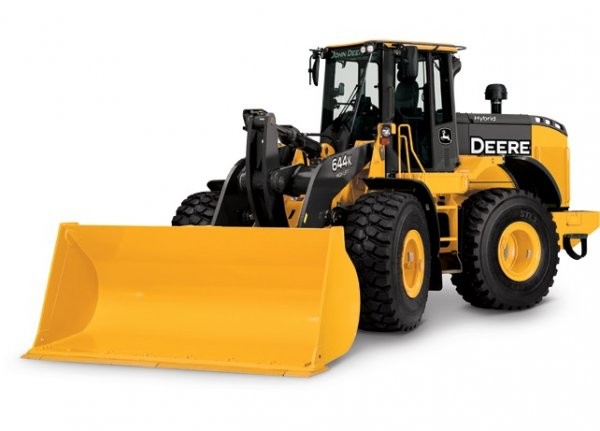 Continuing its focus on listening and responding to customer needs, John Deere plans to highlight a wide-range of equipment, customers and their projects at this year's CONEXPO-CON/AGG, March 4-8 in Las Vegas.
Seven John Deere exhibit areas will showcase 35 machines and 15 product simulators. At 37,818 square feet, the John Deere display will be the manufacturer's largest CONEXPO-CON/AGG booth ever.
"CONEXPO-CON/AGG is the perfect international stage to showcase John Deere's customers, their projects, the equipment, and technologies they utilize on a daily basis," said David F. Thorne, Director, World Wide Marketing & Support, John Deere Construction & Forestry Division. "We've worked hard to better listen and respond more quickly and as a result we're able to build more profitable businesses and better communities together."
Beyond equipment, John Deere will highlight tools such as John Deere WorkSight™ that help customers optimize machines, uptime, and jobsites. Other booth highlights include Final Tier 4/Stage IV technology, parts, John Deere Financial, and a focus on the expansive John Deere dealer network.
More than eight new John Deere machines will be on display in the large North Hall exhibit, including Final Tier 4 G-Series Motor Graders, Mid-Frame E-Series Skid Steers and compact track loaders, and several Final Tier 4 Wheel Loaders.
Other machines of interest include the E-Series ADTs, K-Series Backhoes, G-Series Excavators and the 644K Hybrid Wheel Loader. The hybrid-electric powertrain of the 644K Hybrid with reduced mechanical complexity delivers amazing responsiveness to tasks such as stockpiling, ramp climbing and truck loading. The 644K Hybrid can reduce fuel consumption up to 25 percent more than a conventional lock up torque convertor and reduce noise on the jobsite due to the constant engine speed.
John Deere is located at booth 12621 – near the main entrance of the North Hall. Two-hundred eighty John Deere workers will be on hand to highlight the latest in construction technology, respond to customer questions, and discuss their business needs.