Caterpillar skid-steer loader specs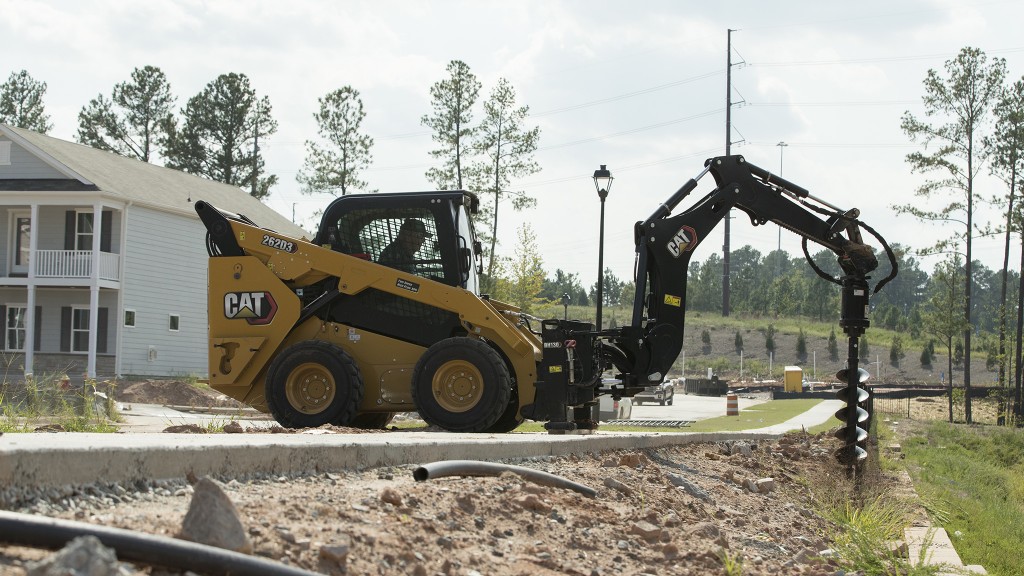 Skid-steer loaders that allow tasks to be completed more easily are becoming more valued by customers, whether that is through advanced technology, innovative attachments, or both. This is accomplished by the integration of technology into labour-saving machine features, which can aid customers in saving time and making more money by automating repetitive tasks like grading, digging, and loading. They also allow the machine to perform these tasks with less user experience. Some of these features include dual-direction self-levelling, return-to-dig, and work tool positioning. Labour-saving innovation also exists with the Smart attachment lineup: Smart Grader Blade, Smart Backhoe Attachment, and Smart Creep.
Featured: 262D3
The 262D3 provides a 74-hp package packed with standard features like rear-view camera, interactive full-colour display, and Smart technology. The available one-piece enclosed cab design delivers in-cab comfort, while two-speed travel adds productivity. Add any of the wide assortment of attachments, including Smart Attachments, for greater versatility.
Recent Caterpillar attachments and technology for skid-steer loaders
Caterpillar's Smart Grader Blade
Caterpillar's new external control kit expands the use of Caterpillar's Smart Blades to Cat D and D2 series skid-steer loaders. These control kits enable the use of the GB120 and GB124 Smart Blades on previous model fleets. The new 3D grade control kit uses existing connections to add automatic blade control to the Cat Smart Dozer Blade.
Previously, Caterpillar's Smart Grader Blades were made available for users with Cat D3 series skid-steer loaders. The new external control kit provides a means to run Smart Grader Blades on all D-series and select older machines.
The new external control kit includes a third joystick for raising and lowering, tilting, angling, and wing functions like smart control for D3 series machines. In addition, it includes the wiring harnesses, a RAM mount, brackets, and all the necessary hardware required for smart grader blade control. The new external control features selectable modes for left, right, and tandem control and is compatible with Cat Grade and Earthworks GO! systems.
Caterpillar also has a 3D GPS/GNSS grade control available for use with these Smart Grader Blades. The technology guides the operator to accurately grade planes, slopes, contours, and complex curves. It provides blade vertical height and horizontal positioning guidance, or, alternatively, the system controls the blade relative to a design loaded into the grade control system.
The base Cat Smart Dozer Blade comes standard with all the required hookups to install 3D-grade control components. Software updates and hardware are available for existing machines and Smart Dozer Blades to operate grade control.
Cat Command for Loading expands to skid-steer loaders
Caterpillar is developing Cat Command for Loading to its D3-series skid-steer loaders. Cat Command provides joystick-controlled remote operation of skid-steer loaders, removing the operator from the machine.

Cat Command for Loading will be available in two configurations on skid-steer loaders – line-of-sight at the job site and non-line-of-sight operating via a remote station located off-site. By allowing the user to control the machine from a safe location, Command maintains high machine productivity in difficult operating environments.
A dealer-installed field kit makes any Cat D3 skid steer Command-ready. The line-of-sight system includes indicator lights, a microphone, a wireless receiver, and antennas installed on the cabin roof with the Command activation switch mounted behind a lockable door with ground-level access. The non-line-of-sight system adds front, rear, and side cameras for 360-degree viewing. Since Command controls are integrated with machine electronics, users experience the same control response as they would operating inside the cab, allowing for productivity to be maintained from a distance.
Line-of-sight Command for Loading comes with a control console supported by a shoulder harness. Machine controls such as startup/shutdown, bucket rack/dump, and lift/lower, rpm, horn, creep control, and auxiliary hydraulic functionality are accessed through the Command console control layout.
Two different line-of-sight consoles will be available, each providing different levels of functionality and control with hydromechanical attachments. The operating range for both line-of-sight Command consoles extends up to 300 metres (984 feet) to allow for remote operation.
Smart Creep for skid-steer loaders
Caterpillar's global attachments marketing manager Scott Britton gave us the rundown on Caterpillar's new Smart Creep technology. Smart Creep is available for Caterpillar's D3 skid-steer loaders when operating cold planer and wheel saw attachments. Smart Creep senses the load on the attachment and automatically adjusts the drive command to keep the cold planer or wheel saw running at its ideal speed.