Skyjack updates its telematics system with improved data accessibility features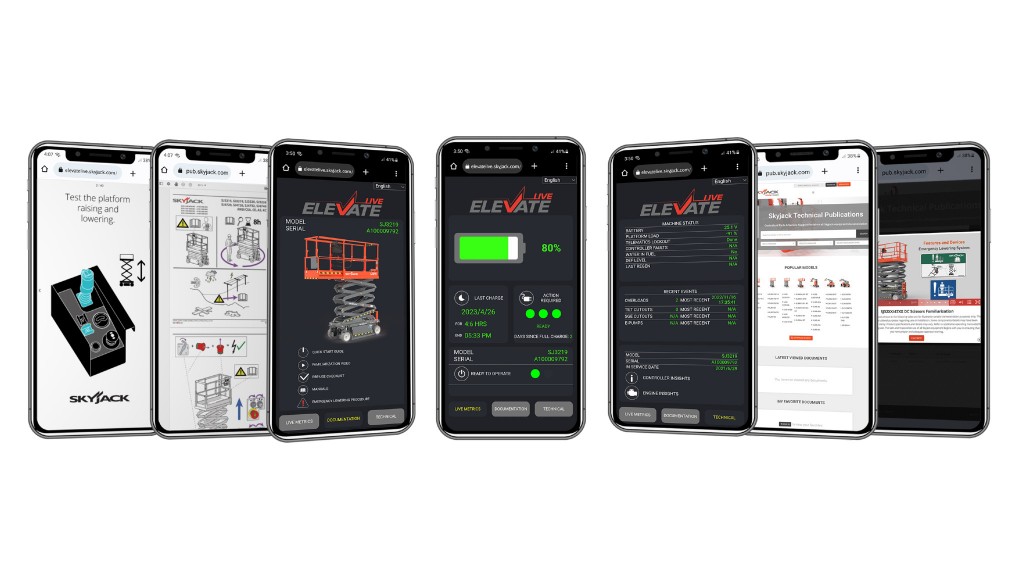 Skyjack is updating its ELEVATE Live telematics system with the launch of ELEVATE Live 2.0. Skyjack says that machines equipped with its ELEVATE telematics package offer users a lot of in-field data availability and troubleshooting capability.
The telematics system was originally launched in 2018 to provide operators access to critical machine information including the machine's current state of health, pre-use inspection guides, and familiarization materials through a simple QR code. Updated navigation in ELEVATE Live 2.0 allows straightforward access to features, including live metrics as they pertain to the machines, such as battery details, engine faults, and controller alarms.
ELEVATE Live 2.0's new user interface includes an additional two screens so that now live metrics, documentation and technical information feeds are available.
"ELEVATE Live has always promoted equipment longevity and the latest version strengthens that even further," shared Skyjack Project Manager Greg Virgo. "Easy to navigate design and enhanced interface with data puts even more crucial information into the operator's hands to give them more resources than ever before, reducing the workload for rental companies."
Electrically powered machines can see a live battery percentage, extensive charge information, and actions required on how to proceed based on battery percentage. Controller alarm data also presents any issues with corresponding codes and timestamps, battery voltage, and total hours of battery usage.
Engine-powered machines can see issues complete with codes and timestamps, fuel amount and consumption data, total hours, and battery voltage among other metrics. For telescopic and articulating boom lifts tracking of secondary guarding features instances of overload and tilt alarm triggering can be tracked.
In addition to the live data, ELEVATE Live 2.0 provides in depth, machine-specific documents.
"Our ELEVATE Live telematics system provides critical alerts and actionable insights into machine operations that help rental companies save time and money," shared Virgo. "The data obtained through ELEVATE promotes equipment longevity and on site efficiency."
ELEVATE Live is available on all Skyjack equipment, whether or not ELEVATE telematics is installed. Information is accessed through a QR code eliminating the need to download apps and remember login details. If a machine has ELEVATE telematics installed, the operator will see more detailed information like the machine's state of health including battery life percentage, last charge date, and recommended charging instructions.