Takeuchi compact track loader specs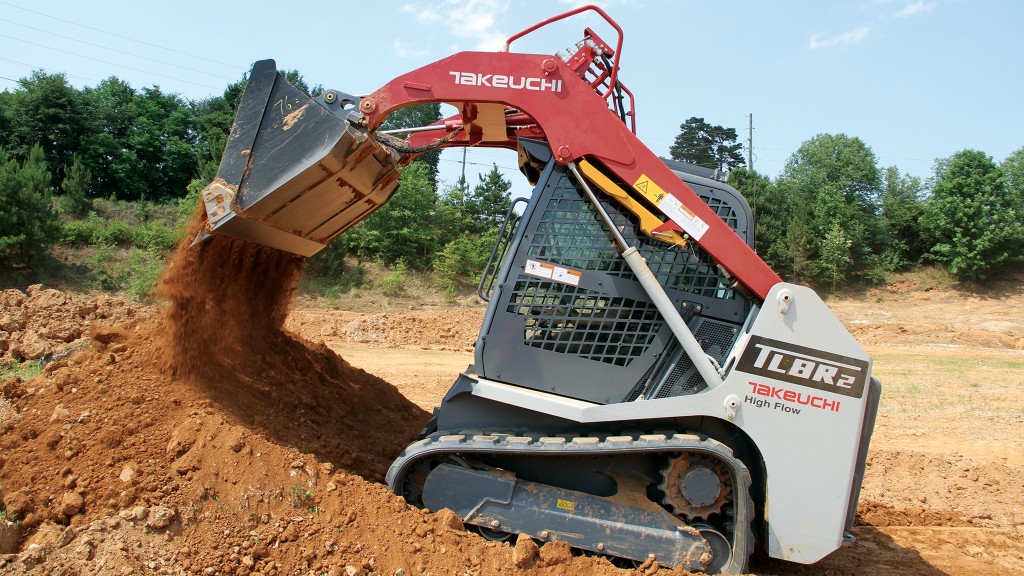 Available in both radial- and vertical-lift configurations, Takeuchi compact track loaders feature a unique undercarriage design with model-specific components that are matched to each platform for greater durability. Operator stations feature a high-back suspension seat and low-effort, pilot-operated joystick controls that reduce fatigue. All new Takeuchi track loaders feature a standard 5.7-inch multifunction colour monitor and rear-view camera that give operators a much broader view of the job site. The Takeuchi Fleet Management telematics system allows users to remotely connect and view the health and service needs of their machines. A full line of Takeuchi attachments, including hydraulically driven options, make these machines even more versatile.
Featured: TL8R2
Takeuchi's newest compact track loader model, the radial-lift TL8R2, features a fully redesigned cabin including a 5.7-inch colour multi-informational display with rear-view camera, LED lighting, and high-torque spin turn. The TL8R2's quiet-ride undercarriage reduces noise and vibration, greatly improving ride quality and operator comfort. Optional features include creep mode, load-sensing auto shift, and high-flow auxiliary hydraulics.
Takeuchi compact track loader attachments
Three hydraulic hammers
Takeuchi has added three new sound-suppressed hydraulic hammers that are suitable for compact track loaders to the Takeuchi Attachment Program.
Takeuchi's new hydraulic hammer line includes the TKB-302S, TKB402-S, and TKB802-S and are compatible with compact track loader models ranging from the TL6R to the TL12V2/R2.
The sound-suppressed design of these hammers also protects the attachment from dust and debris. Constant blow energy (CBE) allows for a wide range of oil flow settings and protects the hammer against high back pressure. An integrated, membrane-type hydraulic accumulator eliminates nitrogen leakage and the need to recharge for lower operating costs and consistent impact energy.
The compact and medium hammer range features fewer internal parts and no tie rods, as well as a three-in-one lower tool bushing, for increased durability and simpler maintenance. A single retaining pin makes it easier and faster to replace the tool and tool bushing onsite when necessary. Swivel couplings on the TKB302-S, TKB402-S, and TKB802-S models allow hoses to move freely, reducing the load on both the hoses and hose couplings for longer component life.
The Takeuchi Attachment Program
Takeuchi-US has launched the Takeuchi Attachment Program. This new program offers a full line of Takeuchi-branded attachments for each of the manufacturer's product lines.
Takeuchi partnered with several attachment manufacturers to provide attachments in five categories: land and vegetation management, construction management, agriculture management, snow removal, and brooms.
Altogether, there are nearly 40 different attachment families available. Many attachments come in various models and sizes for a customized solution for nearly any machine application.
Takeuchi's attachments offer standard configurations, including bolt-on cutting edges, connect-under-pressure quick couplers, and heavy-duty cylinders. Attachments have flow requirements and operating parameters that are matched to compatible machines.
How to maintain your compact track loader's hydraulic system
Larger pumps and higher pressures have helped hydraulic systems become increasingly sophisticated over the years. These improvements to hydraulic systems have helped make compact track loaders dependable machines that can perform a wide variety of tasks. Keeping the hydraulic system on your compact track loader in top-notch shape is integral if you want your machines to utilize a variety of attachments.
Takeuchi has shared some tips with us to help contractors properly maintain the hydraulic system on their compact track loaders. Find all the hydraulic system upkeep tips here.