ASV compact track loader specs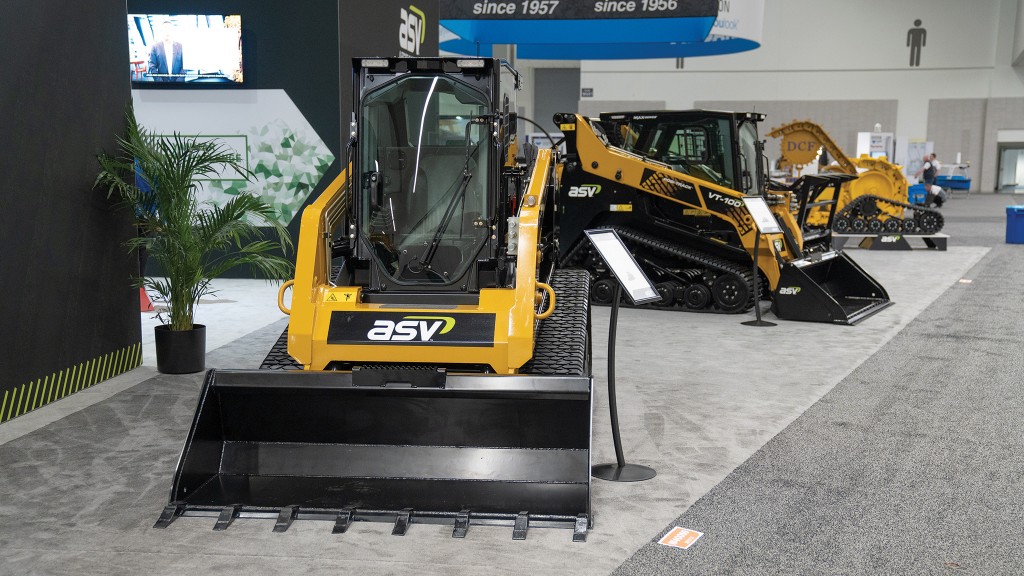 ASV compact track loaders are purpose-built to deliver performance for all types of jobs, including forestry, landscaping, construction, and snow removal. Each CTL is engineered with ASV's Posi-Track undercarriage technology for more traction, speed, and performance on a wide range of terrains. The line's MAX-Series loaders feature a cab designed for comfort and deliver 360-degree visibility, a roomy layout, and a 7-inch full-colour touchscreen display. All ASV compact track loaders include a two-year, 2,000-hour warranty. The warranty features what ASV says is the industry's first and only no-derailment guarantee and covers the tracks for the entire warranty period.
Featured: VT-100
ASV's mew 103.5-hp vertical-lift VT-100 compact track loader is solid in loading and grading applications. ASV says that the model includes elevated comfort, visibility, and performance features. The VT-100 features standard 40 gpm high flow, a 3,500-pound ROC, and a 10,000-pound tipping load for maximum performance.
ASV's latest compact track loader attachments
Mulchers, snow attachments, and a six-way dozer blade
ASV has updated its line of branded attachments for CTLs and SSLs. These new updates add new mulchers for the MAX-Series RT-135F and RT-75HD Posi-Track compact track loaders, the first ASV-branded snow attachments, and a six-way dozer blade.
ASV's new mulchers are available in a standard drum or a depth control series. The standard drum is suitable for most applications and includes carbide teeth that can stand up to rocky soil. ASV offers the depth control series outfitted with knives for operation in applications that deal with stringy, fibrous vegetation. Depth control technology allows the mulcher to process material in a single pass.
ASV's new snowblower features a 4-blade fan, a heavy-duty gearbox, and a high-carbon steel cutting edge to plow through snow and ice. Plus, a No-Freeze-Up chute design seals out snow and freezing slush to minimize downtime. The snow blade and snow pusher have a high-carbon steel cutting edge for a longer lifespan. Additionally, operators can add an optional rubber cutting edge to the snow pusher for work in sensitive areas such as sidewalks and grass.
The six-way dozer blade for grading and levelling rounds out these attachment updates with heavy-duty construction and a hydraulically controlled blade for versatility and easy operation. This package combines a dozer, grader, and leveller that can be used in a variety of applications such as road work, yard work, and more.
The new ASV mulchers, snow attachments, and dozer blades are available for pre-order through ASV's dealer network.
An array of ASV-branded attachments
ASV has plenty of attachments to diversify what tasks a CTL can perform on the job site. Recently, the manufacturer has added augers, bits, breakers, trenchers, soil conditioners, buckets, pallet forks, grapples, and brush mowers. ASV says that these attachments are for contractors who want to add versatility to their compact equipment fleet.
The attachments are available through ASV's dealer network. Additionally, each attachment is matched and tested for use with ASV machines.
ASV will continue to expand its attachment line to add to the growing capabilities of ASV machines and fill the increasing demands and variety of job-specific applications.
Compact track loader turf tracks
ASV also offers smooth turf tracks for minimized damage to surfaces. ASV says that the turf tracks can achieve equal or better traction than treaded tracks on dry surfaces. ASV's turf tracks are completely smooth and minimize damage to topsoil and root systems, ideal for jobs in landscape, hardscape, and golf course applications.
ASV's green turf tracks are manufactured from a specialized blend that resists cracking, provides traction, and maximizes overall life. The rubber tracks eliminate rusting and corrosion because they contain no steel cords. These turf tracks are available for the RT-25, RT-40, RT-50, RT-65, and VT-70 compact track loaders.
ASV turf tracks can work in conjunction with ASV's Posi-Track undercarriage. Posi-Track features include flexible tracks; an open-rail undercarriage that contributes to longer component wear life, even ground distribution, more track on the ground, and a lower risk of derailment; and a large number of ground contact points. Turf tracks provide ideal ground contact on dry surfaces.