Five of the most influential inductees in the AEM Hall of Fame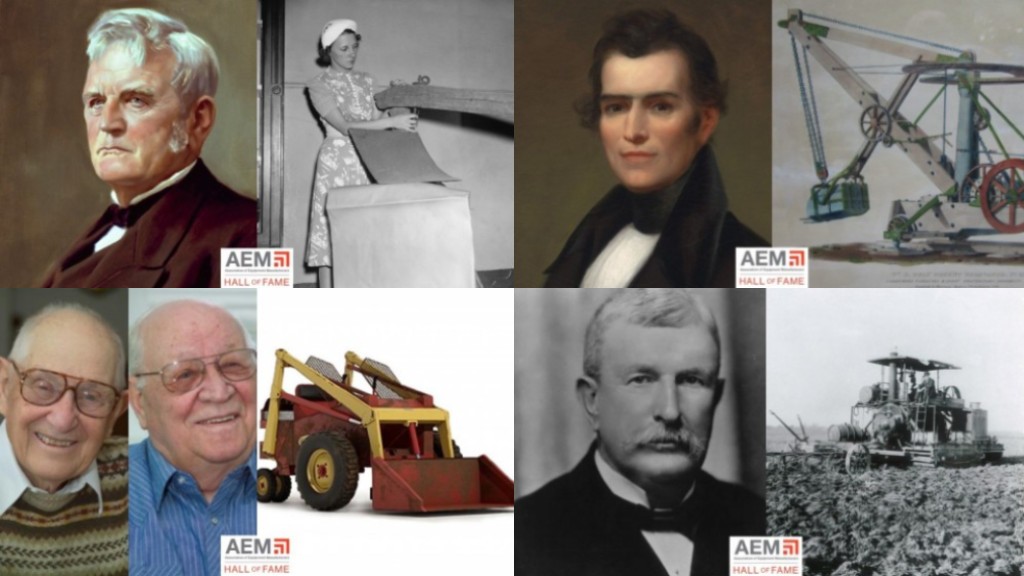 The Association of Equipment Manufacturers' (AEM) Hall of Fame celebrates those who create the equipment and technologies that build our world. Let's take a look at five of the most influential inductees.
"The AEM Hall of Fame is a collection of some of the most impactful innovators in the equipment manufacturing industry, and in many cases, our world," said AEM President Megan Tanel. "In fact, several of these leaders have created the ground-breaking equipment and technologies that have touched the lives of so many across the globe, contributing to how we live, work and eat."
AEM says that among its members are individuals who have not only changed the way the equipment manufacturing industry works but the way the world itself works.
Bryn Fosburgh (Inducted 2022) – Trimble, Inc. – real-time kinematic (RTK) GPS technology
Before global positioning systems (GPS) incorporated RTK technology, using GPS to figure out where something was on the surface of the Earth took a backpack, a receiver that often resembled half a softball on top of a large walking stick, some patience, and the ability to compensate for its ability to only calculate position within five meters, though later iterations were able to condense that to thirty centimetres.
RTK technology, however, allowed receivers, now significantly miniaturized, to track the position of a receiver in real time within one centimetre. With this advancement, GPS was able to surpass its original design of tracking large military assets like aircraft carriers, to allowing a tractor to precisely plant a field on its own, allow a road grader to accurately grade a new road curve.
John Deere (Inducted 2012) – Deere & Co. – self-scouring moldboard plow
When Deere first moved from his home state of Vermont to his adopted home of Illinois in the 1830s, the grasslands of the American Midwest frustrated farming efforts, as the native grasses' deep root systems created sticky, difficult fields to work compared to the looser, forest-based soils then-new European settlers were used to. Every few feet, farmers would have to clear off the mud from their wooden or cast-iron plows before proceeding.
Deere started tinkering with a Scottish saw blade made out of harder, smoother steel in 1837. The smoother steel surface, combined with the sharper angle Deere perfected, allowed his new plows to cut the prairie sod, and allow for the use of some of its soil.
Eventually, Deere's plows would be known as "The plow that broke the plains."
William Smith Otis (Inducted 1996) – steam shovel
Deere isn't the only one famous for breaking ground. William Smith Otis only lived to be 26 years old, but in his short life, his invention of the steam shovel started transforming the world by allowing for faster construction of railroads, canals, and other forms of infrastructure we take for granted today.
Otis's design was intended to mimic the same action of a human using a shovel, in which it would excavate a bucket of earth, turn up to 180 degrees, dump it into a receptacle (such as a railcar), then return to position. Otis's shovel was mounted on a rail platform, powered by a steam engine, and used chains to control the bucket.
Otis was granted a U.S. Patent (No. 1,089) in 1836 but tragically died less than three years later of typhoid fever.
Cyril and Louis Keller (Inducted 1999) – Melroe Manufacturing/Bobcat – skid-steer loader
While Otis's steam shovel loaded dirt, brothers Cyril and Louis Keller got their big break loading turkey waste more than a century later. In 1957, the brothers were tasked by their turkey-farming friend in Minnesota to help him mechanize the process of clearing the manure out of his large barn. What would result from that challenge, a compact front-end loader that could turn fully around within its own footprint, would create one of the most versatile machines introduced to the job site and barnyard since the gasoline-powered tractor.
After the concept was purchased by Melroe Manufacturing of North Dakota, the Keller Brothers were hired to continue developing their three-wheeled concept. It was at Melroe where the Kellers added the fourth wheel and the skid-steering mechanism, allowing the machine to turn with differential steering like a military tank, and gain a significant stability boost from the extra wheel, resulting in the first zero-turn skid-steer, the Melroe M-400. Eventually, the concept of a compact loader would develop into a track-loader by replacing the wheels with tracks, giving the machine even greater ability to do work.
Benjamin Holt (Inducted 1993) – Holt Manufacturing/Caterpillar – track-type tractor
Those first working tracks come courtesy of Benjamin Holt, who patented the first workable continuous-tracked tractor at his shop in Stockton, California.
A year after seeing a number of non-functional concepts on a trip to England, Holt developed his own ideas and tapped his company's metallurgical knowledge to produce a working crawler-tractor concept in 1904.
As the story goes, while Holt was testing his steam-powered "No. 77" prototype by plowing the marshy soil of Roberts Island, near Sacramento, California, his company photographer remarked the upside-down image of the machine in his viewfinder resembled a "caterpillar." From that day, the machine, and its name, were born. Holt's first steam-powered crawler tractors sold in 1904 for $5,500 (the equivalent of more than $192,000 in 2023), however, the concept really broke through when his nephew, Pliny Holt, started creating gasoline engines for them in 1908.
AEM is currently seeking nominations for the 2023 inductees. If you have somebody to nominate, you can find the form here.
Company info
6737 West Washington Street, Suite 2400
Milwaukee, WI
US, 53214-5647

Website:
aem.org
Read more