McLanahan skid-mounted dewatering system produces drier end product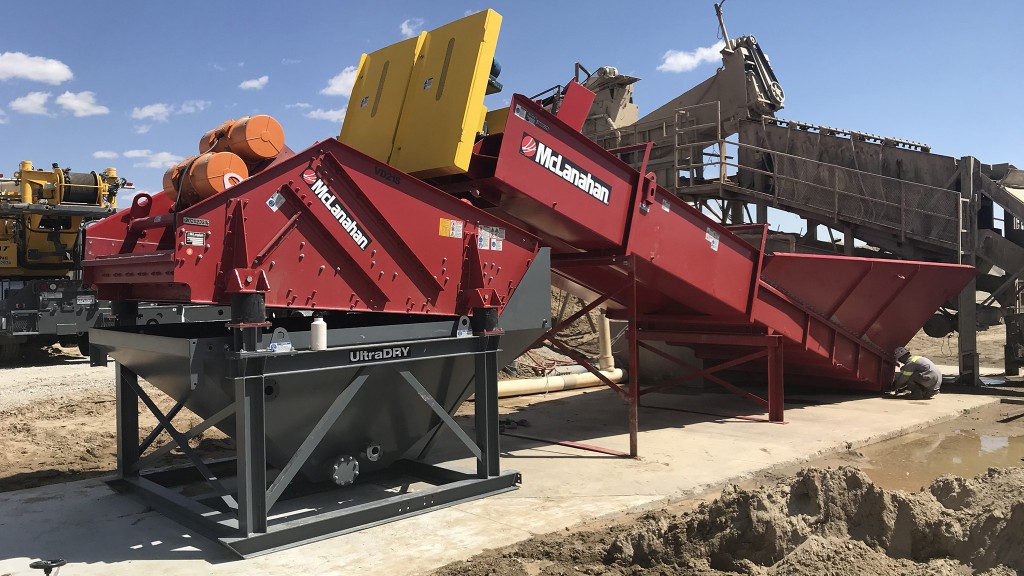 McLanahan has added the UltraDRY, its next generation of dewatering screen, to its Ultra equipment line of standard sized units that can be containerized for easy shipping.
The UltraDRY is a modular, skid-mounted screen that can be added to a new or existing system. The company says that adding a McLanahan dewatering screen to the end of their screw washer can achieve moisture content as low as 7 percent, which creates a drier product that is easier to sell. It also allows for better site stockpile management.
Screens used in the UltraDRY system have a high G force, creating a deeper bed depth, a drier product, and more product processed. Heavy-duty urethane holds up to the demands created by deeper bed depths and higher G forces. Drive motors on the UltraDRY are oriented to ensure that screens do not need a brake or VFD to stop side motion. Additionally, it can come equipped with a divided deck design so that two separate products can be made on the same screen.
A slurry pump can be added on when pairing the UltraDRY with a screw washer to divert the screen's underflow water back to the screw's feedwell. This location is ideal for water placement, according to McLanahan, as it keeps product sized fines in the product piles, limits system water usage, and allows material at the top of the screw to stay cleaner and drier. An optional spray bar allows users to scrub away remaining debris.