JCB eyes hydrogen as part of zero-emissions future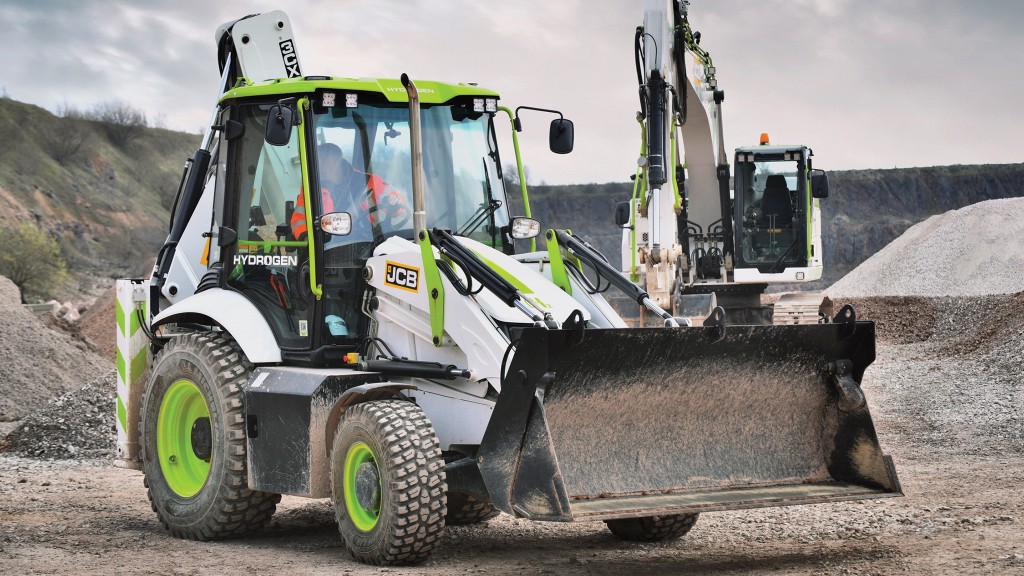 Electric equipment is a fast-growing segment of the market, but not all machines and applications are suitable for battery power. As part of its journey toward delivering a full range of zero-emissions equipment, JCB continues to roll out a lineup of compact electric machines in several product categories. The company has now turned to hydrogen gas as a fuel solution for larger earthmoving and material handling machines – which has resulted in working backhoe and telehandler prototypes. I recently had the opportunity to travel to JCB's world headquarters in the U.K. where the company unveiled its hydrogen combustion engine. However, as I learned, the road toward its development was not straightforward.
A hydrogen fuel cell experiment
On its journey toward development of the hydrogen combustion engine, JCB built an impressive working prototype hydrogen fuel cell excavator after determining that battery power wasn't the right solution for its larger machines.
"We started, like many companies did, with battery technology. We got our first seven electric machines out, and we're really proud of those doing a fantastic job. But they tend to be used in an urban environment," says Tim Burnhope, chief innovation officer at JCB. "The most important part is that they're close to electrical charging points of some form or electricity supply. When you move out of the city and you're on job sites where you either have to take a generator to supply power or it's quite remote, actually the hindrance for electric becomes apparent very quickly."
Larger machines tend to work in those remote locations and need lots of power and batteries – which JCB found becomes cost prohibitive and impractical as machines get bigger. According to Burnhope, customers like the familiarity of mobile fuel, so JCB started to look at mobile fuel alternatives to diesel, such as HVO and hydrogen.
"We kept coming back to hydrogen as the best solution, the best opportunity for us . . . at that time, and the only product we could make would be with a hydrogen fuel cell. So we got on and built our fuel cell excavator and it's a fantastic machine," says Burnhope.
"It's one of those bittersweet projects where the machine is fantastic, but actually the technology is just inappropriate at this point in time for the industry. The fuel cell seems quite fragile in terms of dust and G-forces, and it's very expensive. The fuel cell combined with power batteries and DC-to-DC converters – the price of those components alone is substantial."
Customers were also concerned about residual value of the machine and whether they could sell a used machine with hydrogen fuel cells into other parts of the world on the aftermarket. JCB ultimately decided that it could do better – that its hydrogen fuel cell excavator would remain a one-off proof of concept, but it would be impractical for the market. JCB Chairman Lord Bamford challenged the engineering team to look at hydrogen combustion as a solution.
JCB turns to hydrogen combustion engine development
According to Burnhope, hydrogen combustion had been tried before but was limited by design technology at the time. With development of this new engine, JCB's goal was to achieve a solution that performs exactly the same as a diesel engine. It took over 165 iterations to perfect combustion for a hydrogen flame, and through this research process they came up with 11 design challenges and got down to four root causes of those challenges: hydrogen mixing, air compression, spark ignition, and steam management. The company created a designed-from-the-ground-up engine that injects hydrogen gas fuel instead of liquid fuel, features specially designed spark plugs and a high-efficiency turbocharger, and manages the byproduct of this combustion process – steam – by burning it off as water.
A new engine – but a familiar process on the job site
JCB is currently testing the hydrogen combustion engine in a telehandler and a backhoe loader. Daily maintenance and operation of a machine with JCB's hydrogen combustion engine will be similar to a machine with a diesel engine. Most maintenance points will be familiar to job site technicians, and hydrogen fuel can be delivered to the job site via truck similar to a diesel delivery. When it's time to refuel, the operator simply connects to the refuelling truck via a hose and is back at work in a few minutes.
This fuel would preferably be green hydrogen, which is produced using wind, solar, or nuclear power, and is the most environmentally friendly hydrogen fuel.
The current limitation is fuel availability, which also keeps fuel prices high, but JCB anticipates that this limitation will continue to change over the coming years as hydrogen fuel infrastructure develops in North America. According to JCB, hydrogen contains three times more energy than diesel, so if the cost of hydrogen is less than three times the cost of diesel, then it also becomes the more cost-effective fuel.
As for the equipment itself, new technology almost always costs more than the status quo. But, according to Burnhope, the hydrogen-combustion-powered equipment could have a surprisingly low premium above its diesel-powered counterpart compared to other zero-emissions solutions. He anticipates that a machine with a hydrogen combustion engine will cost between 20 and 35 percent more than the diesel-powered version. For comparison, battery-powered equipment has a 70 to 200 percent premium, and a hydrogen fuel cell excavator, like the prototype JCB developed, would come with a 200 to 300 percent premium.
Is hydrogen combustion the future?
Burnhope says that JCB's customers are anticipating the need for net-zero solutions; the company's aim is to reduce complexity for contractors, and the familiarity of mobile fuel delivery and the hydrogen combustion solution makes them feel comfortable.
He adds, "Customers are really excited about it and what they're doing is putting pressure on us to get machines to market so they can buy one or two and they can experiment . . . when we get new models in customers' hands, that's when we really learn."