Cat adds technology to simplify operation on new wheel loaders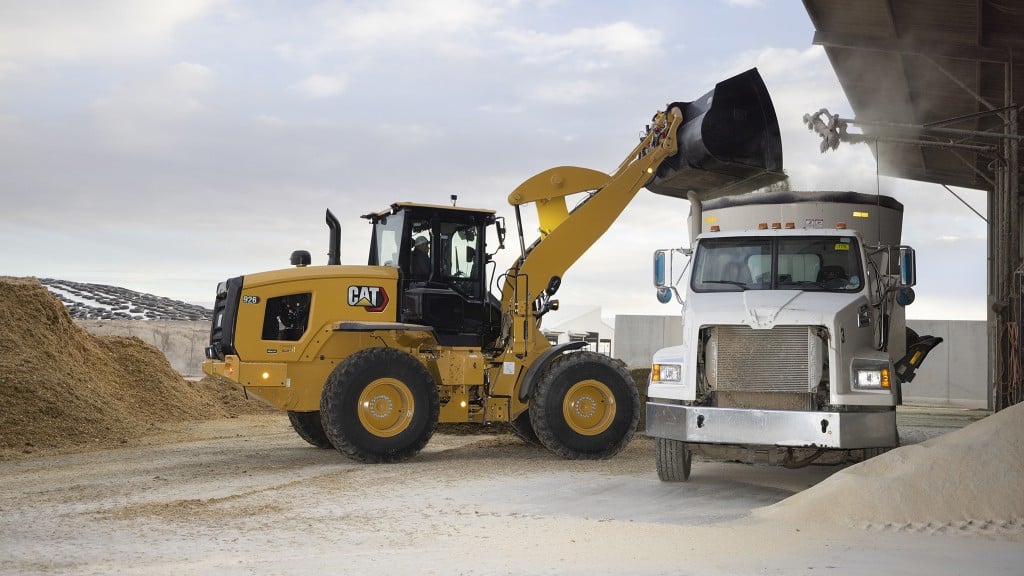 Caterpillar's new Next Generation 926, 930, and 938 wheel loaders have been designed with advanced technology that helps simplify machine operation, which improves overall performance.
Cat's exclusive adaptive engine RPM feature automatically adjusts engine speed based on operator input. This reduces fuel burn and improves productivity. Systems on these loaders are optimized and sized to run at lower engine RPMs; operating in the 1,200-1,500 RPM working range makes the loaders more fuel efficient. At the same time, larger pumps run at slower speeds to reduce wear and extend service life.
Four customized powertrain options are available on these loaders. Utility mode is designed for hydromechanical tool use or pick-and-place work, with implement power and quick speed. Utility vehicle mode gives fine ground speed control and engine RPM throttle lock.
Torque mode saves up to five percent in fuel by 'freewheeling' around corners, and on downhills. In Hystat mode, the loaders feature engine braking with aggressive deceleration, acceleration, and no travel until the throttle is applied. Finally, in Ice mode for snow-clearing applications, soft directional shifts and extended coast-out are implemented for better control.
Auto wheel torque control automatically controls torque to the wheel and adjusts rimpull control, reducing tire spin. A standard front axle differential lock helps improve traction on difficult terrain. Limited rear slip differential is optional. On the 926 and 930, differential lock is controlled on the go by the operator with the joystick. The 938 comes standard with automatic differential lock, along with manual control.
Cat Payload is standard on the new loaders, with a 250-hour demo mode to test before subscribing. Payload provides on-the-go weighing to help operators hit exact targets and avoid overloading, underloading, or misloading of materials.
Simple in-cab pushbutton kickout settings for upper, lower, and tilt allow operators to match bucket position to the task, helping to maximize bucket cutting edge life. A new bucket shake feature controlled by a joystick button provides precise metering of materials in batching or spreading applications and cleans the bucket.
Safety and operator comfort incorporated in cab update
Incorporating automotive style and amenities, the new next gen cab adds operator comfort and improves visibility to increase safety. Smaller cab pillars, increased window area, heated and electric rearview mirrors with lower parabolic, and standard rearview camera combine to improve operator visibility around the machine. New options include a multi-view camera delivering a bird's-eye view around the loader. Rear object detection with visual and audible alarms provides additional alerts to the rear of the machine.
The next gen small wheel loaders expand Cat Command for Loading to the global market. Command for Loading offers remote control of the loader to remove the operator from hazardous conditions. New for this model series, the command console offers efficient line-of-sight machine operation through the console's ergonomic control layout of loader functions. The command station positions the operator in a virtual cab with familiar controls and machine displays for remote, non-line-of-sight loader control. One operator can control multiple machines, one at a time, at different sites from a single command station.
The customizable in-cab display delivers an easy view of operating parameters. Using Operator Profiles, up to 50 different operating profiles can be set through the display, which the loader can recall when an operator starts the machine. The next gen loaders now come with two steering option - new force feedback joystick steer control and a low-effort steering wheel - to further customize machine configuration. New joystick steering allows the loaders to travel at speeds reaching 25 mph (40 km/h) as a result of the force feedback feature that stiffens at higher speeds and softens as speed decreases.
Additionally, the new loaders offer the option of joystick or single axis levers, and both come with a range of programmable options to meet operator preference. Included with joystick controls, the versatile jog dial offers quick, on-the-go speed, throttle lock, auxiliary hydraulic flow, and wheel torque adjustments as well as screen navigation and creep speed control.
Optimized Z-bar linkage
With standard parallelism, the optimized Z-bar linkage digs like a Z-bar but acts like a tool carrier, increasing versatility and visibility. The design provides coupler and high lift options for all new models. The patented positive pressure fusion coupler interface eliminates wear and maximizes performance with reduced work tool offset. A full range of work tools for the new loaders includes optimized forks with mechanical parallel lift and performance series buckets featuring an aggressive rack angle for load retention and a 10 percent boost in fill factors.
The new machine design improves visibility to the implements. An aggressive rack angle affords full cutting-edge and outstanding bucket corner visibility.
Engine oil and filters and fuel filter service intervals increase to 1,000 hours for the next gen small wheel loaders. Over 10,000 operating hours, this saves 45 percent in engine oil, 67 percent in fuel filters, and 45 percent on air filters, substantially lowering service costs and improving loader uptime. Full return filtration on the Hystat, implement and steering systems keeps the hydraulic oil cleaner and improves system reliability.
All daily service items are now within easy reach, and the new cabin filter is serviced from ground level, shortening service time and improving safety. Optional integrated autolube with adjustable grease frequency helps to maximize component life and minimize costs through proper greasing of hinge points. Available tire pressure and temperature monitoring with adjustable safety limits help to extend tire life and minimize costs.
Related Articles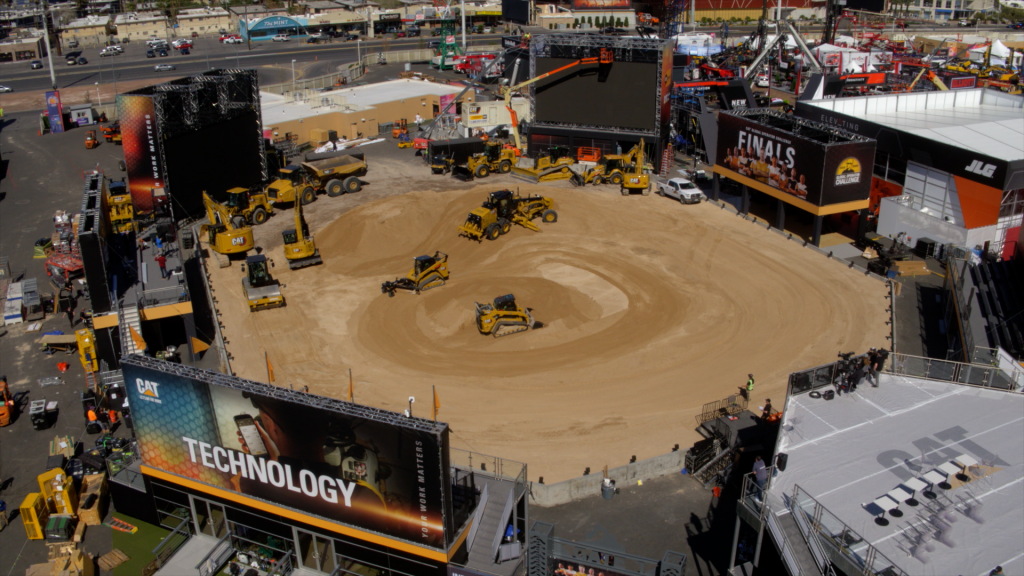 Caterpillar hosts nine finalists to determine 2023's Global Operator Challenge champion