5 tips for maintenance of rotating and fixed-boom telehandlers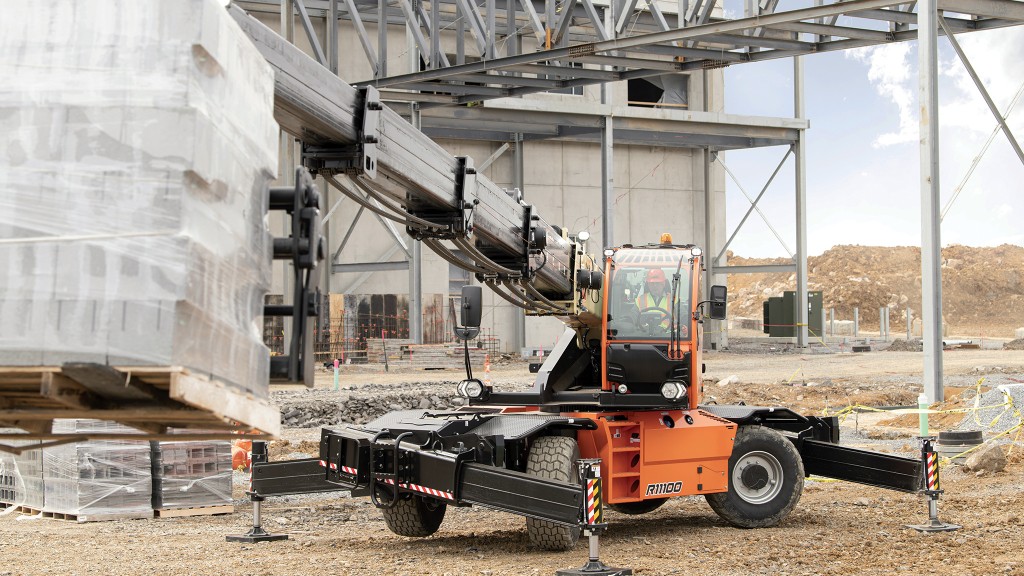 As job sites become more congested and equipment and labour shortages continue to impact project schedules, rotating telehandlers have risen in popularity. But rotating telehandlers are still a relatively new concept in North America, even to those who regularly use telehandlers, so it's understandable that equipment owners and users are asking about the differences between fixed-boom and rotating models – particularly when it comes to maintenance.
Whether you have a rotating or a fixed-boom telehandler, pre-operation checks and proper machine maintenance ensure your equipment will be ready for everyday operations and significant downtime can be prevented from unexpected failures.
Follow these five preventive maintenance tips to keep both types of telehandlers in peak operating condition.
Tip 1: Be prepared to perform maintenance
For a telehandler to operate at full capacity, it needs to be in proper working order. Knowing when and what to check on your telehandler will also help reduce unplanned downtime. For example, JLG recommends equipment owners and operators follow the pre-delivery inspections, pre-operation checks, and maintenance intervals outlined in a machine's Operation & Safety manual.
Pre-delivery inspections should be done before each sale, lease, or rental delivery. Telehandler OEMs provide new Machine Delivery and Pre-Delivery Inspection forms that are unique to the particular type of machine. For example, rotating telehandlers will come with a form that calls specific attention to those models' standard features and functionality.
Pre-operation checks should be completed at the beginning of each shift or each change of operator. This type of inspection includes, but is not limited to, the following items:
Cleanliness – Check all surfaces for leakage, debris, slippery substances, and/or foreign objects.
Structure – Inspect the machine's structure for dents, damage, weld, or parent metal cracks, as well as any other discrepancies.
Decal & Placards – Check all for cleanliness and legibility and make sure none are missing. Clean or replace as needed.
Operation & Safety Manuals – Make sure a copy of the Operation & Safety Manual and AEM Safety Manual is enclosed in the weather-resistant storage container.
Battery – Charge as required.
Fuel – Add the proper fuel, as necessary.
Engine Oil – Make sure the oil level is at the Full mark on the dipstick.
Hydraulic Oil – Check the hydraulic oil level, add as required.
Walk-Around Inspection – Perform as instructed by the machine's Operations & Safety Manual.
Function Check – Following the walk-around inspection, perform as instructed by the machine's Operations & Safety Manual.
A pre-start inspection should also include a check to ensure that all safety devices are operating properly and perform a check for modifications to the machine's components. It is important at this point to verify that any modifications on the machine have been approved by the manufacturer to avoid safety violations.
If the machine is equipped with accessories and/or attachments, please refer to the machine's Accessories section in the Operations & Safety Manual, or look at the accessory installed on the machine for specific inspection, operation, and maintenance instructions.
Details on preventive maintenance to be completed at specific periodic intervals will be highlighted in the machine's Service & Maintenance manual.
It is important to note that a few key attributes differentiate a rotating telehandler from a fixed-boom model in maintenance. One is the ability to rotate the upper frame 360 degrees. While the rotating turret requires minimal maintenance, it is recommended that all functions used during machine operation are inspected during pre-operation checks. In addition to the unique rotating functionality, rotating telehandlers are also generally equipped with more standard features which may vary on fixed telehandlers based on preferred customer configurations. Be sure to check the machine's manuals for guidance on how to check and maintain these specific items.
Tip 2: Know when to perform maintenance
Following a maintenance schedule allows you to keep the telehandler in proper working order before a failure or issue occurs.
Here's an example of a maintenance schedule for JLG's rotating telehandlers:
As Needed: Air conditioning system, filters (air, engine oil, hydraulic oil, air conditioning system, etc.), brake, parking brake, electrolyte level and battery charge, lighting, hydraulic oil level, alternator belts/services, engine oil level, radiators, radiator expansion tank, tire pressure, and wear check.
Every 10 Hours: Window washer tank, safety decals and devices, coolant, engine oil level, metal structural work (no cracks), and radiators.
Every 50 Hours: Grease level in the automatic lubrication system (if installed), prop shafts, axle oscillation, wheel reduction gear points, mechanical joints of parking brake on axle, mechanical joints, cab ventilation filter (closed cab), brake oil level, hydraulic oil level, hydraulic system leaks, air filter, fuel filter, coolant, engine oil level, tire pressure, and wheel nuts tightening.
Every 250 Hours: Seat belts, rear-view mirrors, electrolyte level and battery charge, torque specifications - hydraulic fittings and fasteners, alternator belts/services, transmission oil, differential axle oil, and epicycloidal reduction gear oil.
Every 500 Hours: Differential axle oil, epicycloidal reduction gear oil, cab ventilation filter (closed cab), brakes oil, electrical system, filters (air, engine fuel, engine oil, hydraulic oil, and water separator), engine oil, drum gearbox oil, and transmission oil
Every 1,000 Hours: Differential axle oil, epicycloidal reduction gear oil, cab structure, brakes oil circuit (including pressure), brake, electrical system, hydraulic system, hydraulic oil, engine valve clearances, engine speed fuel tank, drum gearbox oil, chassis, and transmission oil.
Every 2,000 Hours: Axle oscillation, hydraulic system, hydraulic oil tank, alternator, starter motor, and radiators.
Every 3,000 Hours: Diesel exhaust fluid filter and coolant.
Every 3,600 Hours: Engine AdBlue tank filter.
Every 4,000 Hours: Prop shafts, reduction gear universal joint, wheel reduction gear clearance and gear pins, steering ball joints, and brake wear.
Every 10,000 Hours: DEF collector filter.
Every 2 Years (regardless of hours on the machine): Air conditioning system.
Please note that these intervals are for normal conditions and usage. Additional checks might be needed depending on a machine's daily usage or configuration, so it's always important to reference the machine's Operation & Safety Manual.
Tip 3: Stock up on parts
Preventive maintenance tasks often require equipment owners and operators to change fluids or replace common wear parts. To ensure that you have the right fluids or replacement parts on hand for these maintenance intervals, telehandler OEMs provide a recommended service parts stock list in the machine's Parts manual. JLG recommends that you always keep parts from this list in inventory and readily available for required maintenance and repairs.
Tip 4: Complete all required maintenance tasks
Preventive maintenance tasks should be completed at the intervals outlined in the machine's manuals and/or according to the maintenance charts located on the machine.
Here are the key items you need to complete before maintaining a telehandler, fixed-boom or rotating:
Before beginning any inspections or checks, lower and fully retract all mobile parts (boom, attachments, etc.), park on flat ground, and follow the machine's proper shutdown procedure. Put a lockout tag on the cab door and inside the controls, indicating maintenance work is underway.
Some key things to keep in mind as you're going through this process:
If the maintenance procedure requires the mobile parts to remain up, apply the boom prop to prevent the descent or fall of the boom.
Maintenance should not be performed if the engine is running. To do this, put the lever in neutral, set the parking brake, run the engine at a minimum for 60 seconds to cool down, turn off the telehandler, and remove the key.
A telehandler must also be level to ensure your fluid readings are accurate.
If this work is being done in the field, set up barriers or spacers to prevent unauthorized personnel from approaching the machine.
Once the telehandler is ready for maintenance, you can follow the guidance below to complete many of the most common tasks:
To check the hydraulic oil level, look at the sight gauge to ensure the oil level is visible in the gauge window. If it's not, remove the fill cap and add hydraulic fluid until the oil is up to the centre of the gauge and replace the cap.
The brake fluid level should be between the maximum and minimum marks on the brake reservoir. If the fluid is low, the telehandler will need to be serviced before it's operated.
To check the engine coolant level, open the engine cover and check the surge tank. The coolant should be between the "Full" and "Add" marks. If it's not, add engine coolant. The windshield washer fluid should be visible in the reservoir.
Look at the fuel gauge on the right side of the cab's instrument panel and fill the tank as needed. To check the engine oil level, open the engine and check the oil mark on the dipstick.
Take out the cab air filters to inspect them. If it's damaged, it will need to be replaced.
Remove the valve stem cap and check the pressure to maintain the tire air pressure. Add air if needed and then replace the cap. If there's any damage to the tires, they will need to be replaced.
If any of the maintenance tasks can't be completed as outlined by the machine's manuals, or if any systems aren't working properly, the telehandler must be removed from service and repaired before being operated again.
Tip 5: Educate operators on proper maintenance
Maintenance needs to become a regular part of your team's schedule if it isn't already. That includes providing the proper education and training on how to perform maintenance tasks. Be sure to follow the manufacturer-recommended guidelines outlined in the Operation & Safety Manual, as well as industry standards, for specifics related to the proper care and maintenance of your telehandler.
Daliborka Ribeiro is director of product management – telehandlers with JLG.