How Canadian buyers are seeking value from their full-size excavators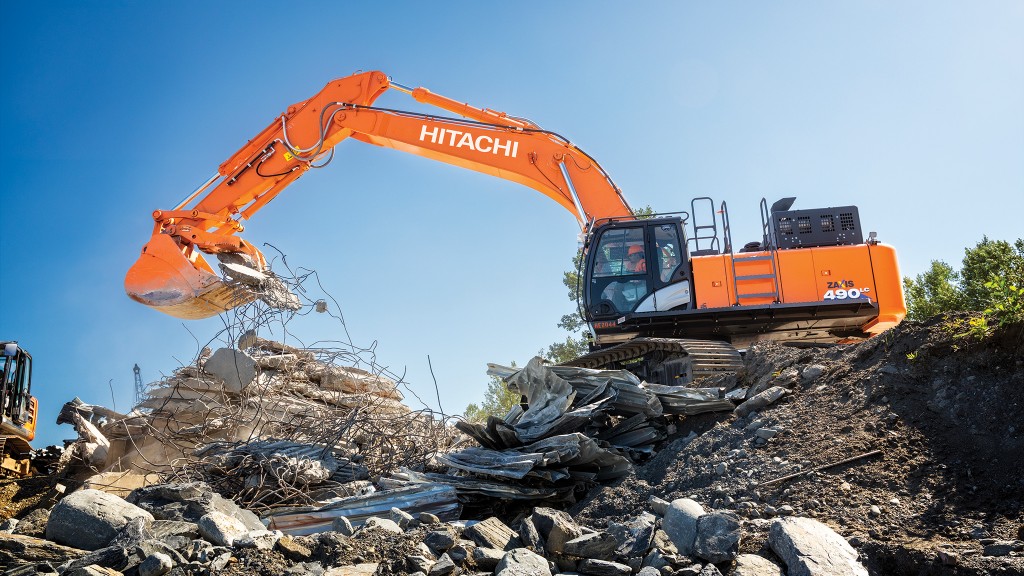 New excavators on the market these days are the most advanced they've ever been. There are a lot of unique features and options which take advantage of technology to improve reliability and efficiency. For contractors who aren't after the most advanced features, today's market is responding by providing contractors with a broad range of options.
According to Lee McMartin, vice president, construction/forestry with Wajax, many customers are seeking value at the core of their purchasing decisions. Wajax has been the sole Hitachi distributor coast to coast in Canada for three decades, but the newly formed direct Wajax-Hitachi partnership has opened doors to new product and opportunities. Hitachi excavators that are becoming available through the partnership, McMartin said, are designed with that need for value in mind.
In a broad sense, Canada saw a slight decrease in the excavator market for 2022 due to supply chain issues. "A lot of business was created out of fear that there wouldn't be anything available," McMartin described.
Rental markets were challenged with availability, but with recession concerns, previous capital spend, and interest rates creeping higher McMartin suspects some clients will be looking to move back to rental purchase opportunities.
Regional demand will be project-driven with specific industry sectors influencing the excavator purchasing market, McMartin noted. Large cities are ramping up for public transportation projects, while oil and gas is behind much of the interest in the prairies and Northeastern B.C. Mining and general infrastructure seem to be holding consistent nationwide.
Safety and ease of use inform excavator decisions
When talking to potential excavator buyers, there are some specific requests that are top of mind for McMartin: reliability, safety, and support. In many ways, the decision-making process for buying full-size excavators comes down to profit versus expense, he said. That doesn't necessarily mean buying the most tricked-out excavator on the dealer lot.
"Bells and whistles have almost played themselves out with some customers – it seems like a lot of people are looking for simplicity. It's bells and whistles that can potentially make machines less reliable and require more training that their operators may not have the time for," he said. "They're looking for simplicity with reliability and performance – if a technology helps them and is easy to use, then there's value in it for them."
In Hitachi's case, that comes down to technology that makes the machine more useful while saving money with no additional training or maintenance – technology like Hitachi's TRIAS pump system. TRIAS uses three pumps to drive the hydraulics rather than two, which reduces loss of hydraulic drag in the system. That improves the excavator's efficiency and saves money.
"By having a three-pump system you can actually have a pump dedicated to the attachment at the end of the stick while not taking away your ability to multifunction," McMartin described.
Telematics an attractive addition for contractors
Machine control is not necessarily a basic requirement when it comes to new excavator purchases, McMartin noted, but telematics and operator assist features are attractive to many contractors.
Telematics adds the ability to check the use and performance of machines remotely, which gives owners added advantages such as improved maintenance and easier connections with their dealers. Hitachi offers the ability to remotely monitor engine and hydraulic oil and intends to expand that to other fluids in the future.
The right maintenance program can extend the life of a machine, which is important to contractors, and telematics are a starting point toward that.
"Customers are looking for safety and ease of serviceability, for the ability to capture information on their machines a lot easier . . . relying on the telematics to give them the right information and help them understand when they should be doing maintenance," McMartin said. "Telematics is a huge part of the maintenance schedule, along with understanding how their machines are operating and the fuel they are burning."
That added knowledge improves the quality of service when dealers and other partners are involved. "How do we make things easier for a customer to solve a problem before sending a technician eight hours into the bush? By using telematics, we can best estimate what's required and send the technician with the right product to complete the job," McMartin said.
Looking ahead, McMartin and the Wajax team are excited for 2023 and Hitachi's newest introductions to the North American market. These excavators are based on machines with a strong track record both in North America and throughout the world – and Hitachi is just getting started, McMartin suggested.
"We're just scratching the surface on what the future holds for Wajax, Hitachi, and our customers," he concluded.
Company info
2250 Argentia Road
Mississauga, ON
CA, L5N 6A5

Website:
wajax.com
Phone number:
1-877-GO WAJAX
Read more