Electric wheel loader conversion from Volvo CE targets mid-size machines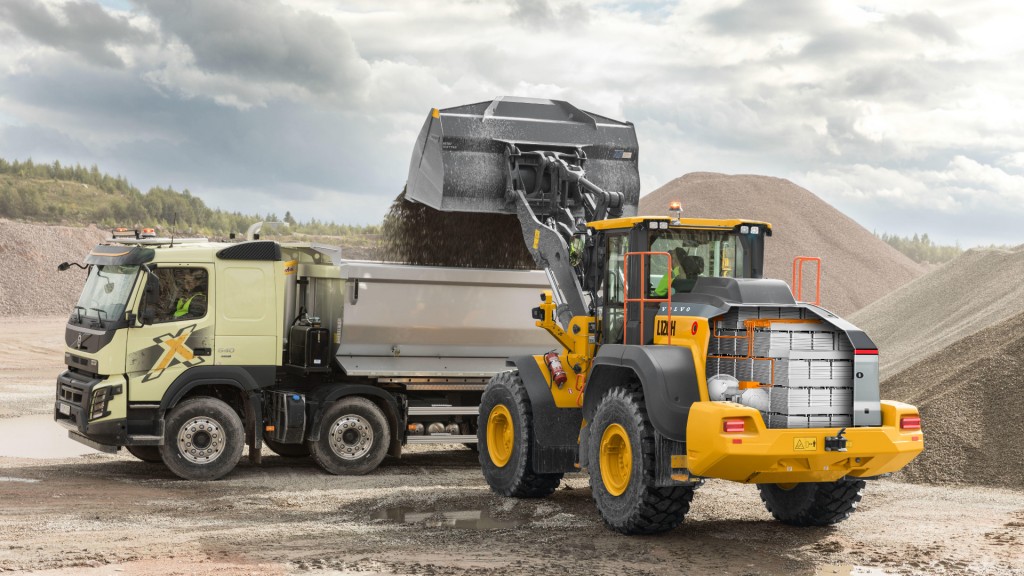 Volvo Construction Equipment's continuing development of electromobility offerings now includes a new solution that can convert the L120H wheel loader to electric operation.
Developed in conjunction with partners - Parker Hannifin and converted by Volvo Group's own CE Engineering Solutions - the 20-ton L120H Electric Conversion will be commercially available for selected customers in Europe during 2023. The conventional machine will remain available to customers, but the electric conversion will deliver the same performance, but emission-free.
This latest collaboration to expand its line of electric wheel loaders follows Volvo CE's investment in Dutch manufacturer Limach to broaden the company's electric excavator portfolio.
This partnership approach, which allows for speedier implementation to the market, happens in parallel with the company's continued development of more electric solutions - like the EC230 Electric, a 23-ton battery electric excavator, built on Volvo CE's own advanced technology.
Carl Slotte, Head of Sales Region Europe at Volvo CE, says: "There is no time to wait - we need to deliver solutions that allow our customers to achieve their decarbonization goals. Change starts here. Our commitment to partnership allows us to take a leading position in transforming our industry, with electric solutions that are built to fulfil market demand and tailored to suit the changing needs of our customers. Working together, we are scaling up our portfolio of electric machines, extending the versatility of our range and transforming our industry towards a carbon neutral future."
The L120H Electric Conversion delivers the same powerful performance as its diesel counterpart, but with zero exhaust emissions and near silent operation. These benefits combine to offer enhanced comfort for both the operator and those working near the machine.
Powered by 240 kWh batteries, it provides a runtime of approximately five hours in most medium duty applications. Consistent with Volvo's existing charging solutions, it is estimated to charge from 0-100 percent in just 1.5 to two hours.
With the L120H Electric Conversion, several features as standard: Comfort Drive Control, Load Assist with On-Board Weighing plus radar detection with our new Collision Mitigation System. In addition, the L120H Electric Conversion will be supported by dedicated electromobility applications which allow the operator to check battery and charging status and to preheat the cab.
Depending on market demand, it brings the possibility to convert existing customers' L120H wheel loaders to electric in the future.