20 tips to help newcomers survive CONEXPO-CON/AGG 2023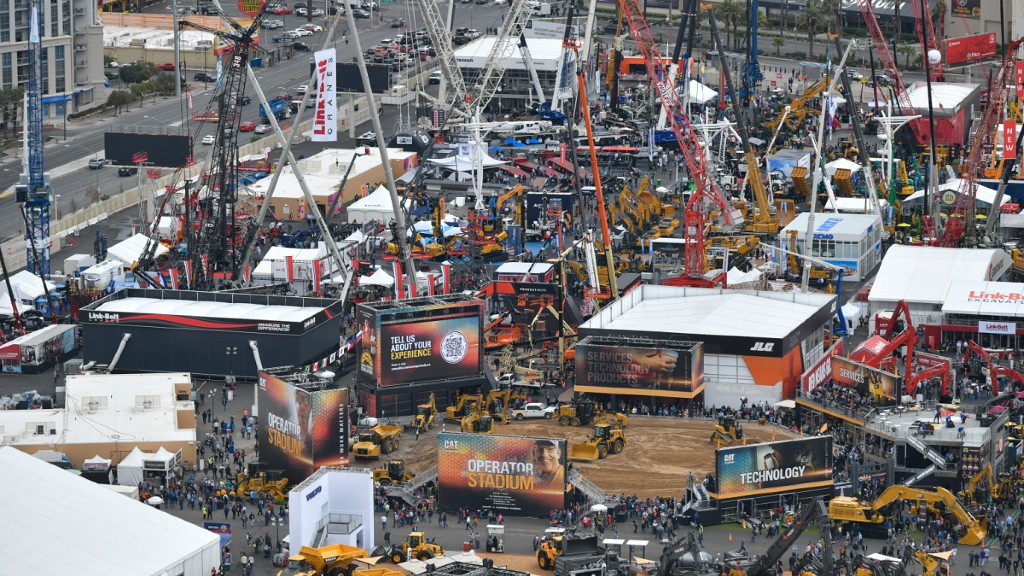 CONEXPO-CON/AGG is already the largest trade show in North America, and in 2023 it's going to be bigger and better than ever. That means it can be a little overwhelming if you're attending for the first time.
To prepare for the show that is set to break records, veteran attendees have shared their best advice for first-timers coming to the show. Here are 20 things everyone should know before you travel to Las Vegas, plus tips for maximizing your time once you arrive.
1. Have a plan
The trade show covers 2.7 million square feet which are full of equipment and technology to see and experts to network with. There is no way you will do everything you want to do by just coming across it as you walk. The exhibitor directory shows the more than 1,800 companies exhibiting and where they will be located at the show.
2. Book a hotel with free transportation to and from the show
Many hotels on the Las Vegas Strip are designated pick-up and drop-off points for free shuttle transportation to and from the show. Check out CONEXPO-CON/AGG's hotel shuttle route schedule for more info on the specific routes and pick-up/drop-off points to plan how you will get to and from the showgrounds.
3. Understand the different ways to get to/from and around the show
There are many ways to get to and from the show, as well as even more ways to get around the 2.7 million square feet of exhibition space.
Getting to/from the show
Hotel shuttles: Many hotels on the Las Vegas Strip are designated pick-up/drop-off points to get to/from the show. Be aware that the route of your hotel shuttle drops you at a designated location at the show campus. Check ahead of which location your route will arrive at the show.
Ride-share and taxi services: There are designated pick-up/drop-off areas for ride-shares and taxis. Know these areas when you call for a ride-share.
Monorail: The Las Vegas Monorail connects 3.5 miles of the Las Vegas Strip. There are several hotels that directly connect to the monorail but are also accessible for those not staying in those hotels. See the monorail map for more info.

MGM Grand
Horseshoe
Flamingo
Caesar's Palace
Harrah's
The Linq
The key stops that get you close to the show are as follows:
Boingo Station at LVCC – Pick-up/drop-off in the Silver Lot, Closest stop to South Hall
Westgate Station – Pick-up/drop-off in Westgate, For registration + badge pick-up
SAHARA Station – Pick-up/drop-off in the SAHARA Hotel, closest stop to the Festival Grounds
Getting around the show
Express shuttles: There will be three routes of minibuses that will be continuously running throughout show hours connecting:

Blue Lot to Festival Lot
Diamond Lot to Festival Lot
South Hall to Diamond Lot
Transportation hubs will be set up at these three lots for pick-up & drop-off, as well as for answering any transportation questions.
LVCC campus shuttle: Minibuses that offer a hop-on/hop-off service around the perimeter of the show grounds. These continuously running minibuses make stops at:

South Hall
Grand Lobby
North Hall

The LVCC Loop: The innovative underground transportation system provides rides in Tesla vehicles under the LVCC grounds with stops at:

South Hall
Silver Lot
Diamond Lot
Look out for signage at these lots to be directed to the Tesla Loop.
Monorail: The Las Vegas Monorail can also be used as a means to get from one side of the show grounds to another. There are three stops on the monorail's route that can serve as pick-up/drop-off spots within the show grounds:

Boingo Station at LVCC - Pick-up/drop-off in the Silver Lot, Closest stop to South Hall
Westgate Station - Pick-up/drop-off in Westgate, For registration + badge pick-up
SAHARA Station - Pick-up/drop-off in the SAHARA Hotel, Closest stop to the Festival Grounds
Please note that unless you specifically purchased a monorail pass during your registration, you must purchase a monorail pass.
4. Know when and where to pick up your show badge
Locations and times for show badge pick-up will be released closer to the show. Be sure you are pre-registered and have a valid photo I.D. to be able to pick up your badge.
5. Pack comfortable shoes
There is a lot to see and a lot of walking involved. Comfortable shoes are essential for CONEXPO-CON/AGG. Make sure that these new shoes are broken in prior to the show. Having to break in brand-new shoes during the show is a recipe for disaster and painful feet.
6. Reserve a wheelchair or electric scooter if you're nervous about walking
If you are interested in renting a wheelchair or motorized scooter to use at the show, we suggest reserving them prior to the show, which you can do by contacting ScootAround. These can also be rented at Blue Lot, Festival Grounds, and West Hall.
7. If you're bringing children, consider bringing a wagon or stroller.
This may come as a surprise, but kids can be moody. It's not a bad idea to bring a wagon or stroller for young kids.
8. Bring a backpack
You will be picking up plenty of stuff and info. You're going to want a place to keep it all.
9. Pack a power bank/an external battery charger
You'll be using your phone to take plenty of photos and videos of the awesome equipment and innovations on display. Be sure to bring an additional phone charger so you're not left disconnected.
10. Bring a water bottle
Hydrate, hydrate, hydrate! The Las Vegas heat can get wild. We recommend bringing a reusable bottle to keep you hydrated as you peruse the show.
11. Don't forget to pack a hat, sunglasses, and sunscreen
Again, plan for it to be hot and sunny in Las Vegas. The last thing you want is to get caught with a wicked sun burn or, in the worst case, heat stroke.
12. Leave some space in your luggage to bring things back
Let us tell you, you will get so many freebies and swag! Plan to leave some extra space to bring them back home with you.
13. Visit new manufacturers as well!
Don't get hung up on just visiting "your manufacturers". There are a ton of new technologies and companies to see as well! Not giving yourself enough time to peruse the show will have you missing out on a lot of new and exciting equipment. You never know when or where you'll find your next piece of equipment.
14. Personalize your schedule
Organize your time at the show with CONEXPO-CON/AGG's My Show Planner. There's no better place to keep track of education sessions you plan to attend, as well as booth appointments and products you'd like to see.
15. Don't miss the smaller tents/exhibits
There is so much to see and many interesting booths, don't just check out the big ones! Smaller tents are at the show for a reason; they have something to bring as well.
16. Eat a good breakfast in the morning
There will be concessions and food available for purchase throughout the show grounds, but make sure to fuel up each morning for the day with a good breakfast. Plus, there are plenty of incredible breakfast spots to explore in Vegas.
17. Make time to take in some Las Vegas attractions!
There's no shortage of things to see and do in Las Vegas. Catch a show, eat at one of the restaurants, attend a Las Vegas Golden Knights game, or maybe one of your favourite music artists is in town the week of the show. CONEXPO-CON/AGG show hours are Tuesday to Friday: 9AM to 5PM and Saturday: 9AM to 3PM, so there is plenty of time in the evening to make the most of your Las Vegas experience!
18. Follow the CONEXPO-CON/AGG social media for the latest information
Stay up-to-date on the latest show information by following CONEXPO-CON/AGG on each social channel. You don't want to miss out on a thing!
19. Download the CONEXPO-CON/AGG App
Get all the latest information about CONEXPO-CON/AGG 2023, and bring that plan you made with you on the CONEXPO-CON/AGG App. It will be available for both iOS and Android.
20. Save 20 percent off your badge by using coupon code MEDIA20
Registration for CONEXPO-CON/AGG and the co-located International Fluid Power Expo (IFPE) is currently 20 percent off with code MEDIA20 for construction and fluid power pros that get their badge by March 13, 2023.