Cleveland Brothers Equipment transforms a Cat hydraulic shovel into a demolition behemoth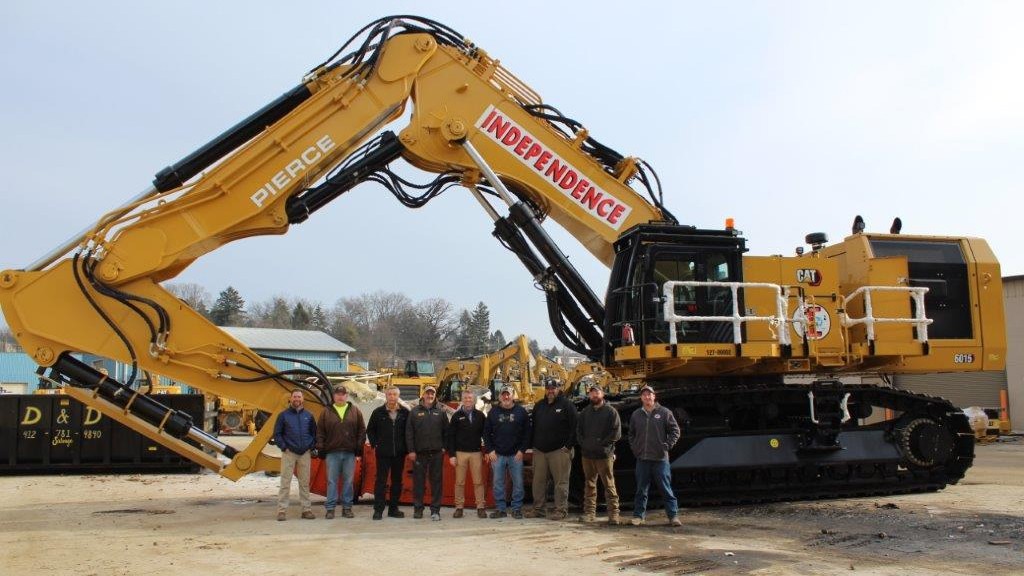 Not just any new machine would do for Independence Excavating. The contractor wanted power and versatility to complete tough jobs like demolishing decommissioned power plants and steel mills. Because of this need, the company turned to Cleveland Brothers Equipment Co., Inc. in order to get a custom-built machine capable of tearing down, wrecking, cutting, and processing the harshest materials in the most difficult-to-reach places.
Cleveland Brothers started with a 154-ton Cat 6015. From there, they combined the hydraulic shovel with a ShearCore Fortress 145FS Series mobile shear. A custom-designed Pierce Pacific 3-piece boom/stick was then added to extend the working range. The result is a demolition giant.
Independence Excavating's Demolition Maintenance Manager, Ryan Lebeau, visited the Cleveland Brothers Murrysville facility for the unique machine's very first test run: cutting apart and processing an old concrete trailer slated to be scrapped.
"This machine produces over 300 gallons per minute in hydraulic flow at the end of the stick, resulting in a 10-second cycle time for our shear," he says. "Its performance is impressive."
LeBeau says that his team chose to partner with Cleveland Brothers because of their close relationship and previous experience purchasing Cat 6015s from them. "About 85 percent of our fleet is Cat machines," he says. "Because we have contracts across the country, the nationwide serviceability and parts that Cat offers are key."
This build concept was crafted with the demolition of decommissioned power plants and steel mills as its intended use. As projects come up, Lebeau said the machine will most likely be travelling the United States to perform on many job sites.
"The Independence Excavating team is excited that we were able to work with Cleveland Brothers to build this," Lebeau says. "It's going to continue to put us in a league of our own. Pushing the limits of the machine through innovation is how we set ourselves apart from other demolition companies."