Smart technology eases skills gap, adds accuracy on motor graders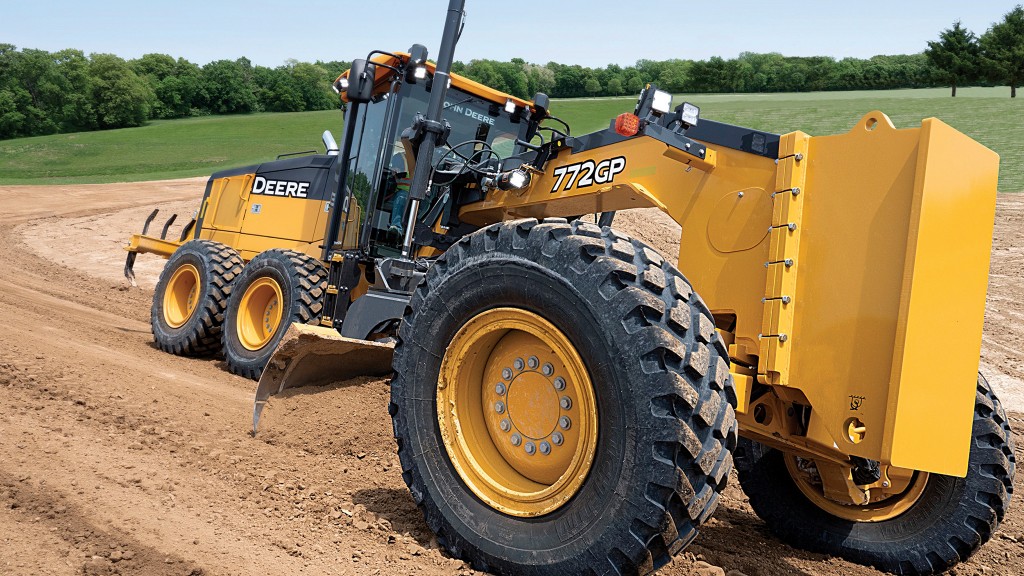 Motor graders are an integral part of earthmoving fleets. Their versatility and ability to meet very tight tolerances make them excellent for final grade work along roads or on large earthworks projects.
Today's motor graders benefit from the addition of smart technologies such as machine control and automation, as well as other updated features, to make them more precise than ever before while making the operator's job easier. These modern technologies mean that motor graders can produce results with tight tolerances, whether run by an experienced or newer operator.
Graders handle jobs from roads to precision finishing
Motor graders have always had an important place in municipal and contractor fleets, thanks to their versatility. On earthmoving jobs, contractors use graders for everything from moving bulk dirt to windrowing of material and stripping topsoil, on down to fine grading.
Technology aids in all of those roles, says John Deere Solutions Marketing Manager Matt Goedert, especially in the context of ongoing skilled operator shortages.
"When you think of the shortage of skilled operators, that's an area of emphasis for every contractor. I think back 5 to 10 years ago, there was a shortage of skilled operators, and now it's a shortage of operators in general," Goedert explains. "Being able to add technology to the machine and still hit really tight accuracies without there being a 30-year veteran in the cab provides a lot more flexibility for the contractor."
For John Deere, a key technology is SmartGrade, its fully integrated 3D grade control system. The key to SmartGrade is that it is mastless, which means it is more capable of handling the many types of adjustments that can be made in motor graders, Goedert says.
"Instead of having a mast out on the moldboard with the antenna attached to it, we chose to mount the antennas to the top of the cab," he explains. "They can lean the front tires, they can side shift the circle, side shift the blade, pitch the blade - there are a lot of different functions, and SmartGrade allows them to maintain accuracy while putting that machine in any position they would like."
SmartGrade is also capable of using multiple location technologies depending on job site needs. While GPS is very common, graders work on a lot of different sites that may call for something else. SmartGrade can tie in with systems using LPS (local positioning systems) and robotic total stations. It is also compatible with Topcon's Millimeter GPS, producing very tight tolerances. Sensors for those systems are attached to the cab as well.
SmartGrade has several levels of automation depending on customers' needs. It can run from simple grade indication on the in-cab monitor mounted directly in front of the operator to automatic operations handling blade elevation and side shift when needed.
When SmartGrade was developed, Deere incorporated sensors into key hydraulic cylinders on its graders. Those sensors allow for precise knowledge of where the blade's cutting edge is at all times, important for contractors with tight specs. They have also allowed for the integration of more automation - additional ways to make grading easier for operators.
Automated tasks aid operators of all skill levels
Motor graders can be a complex piece of equipment, so they are often given to the most skilled operator on staff. In today's labour market there may not be an operator with that high level of experience available. Automation helps address those challenges by reducing the complexity and handling repetitive tasks as needed.
"When we think about automation features . . . a lot of them are centred around making the motor grader easier to operate, and solving that inexperienced operator challenge," Goedert says.
Goedert points to six automation tools on John Deere graders that help improve efficiency while reducing potential damage and downtime. One, machine damage avoidance, keeps the moldboard from making contact with areas of the grader - steps, tires, and other parts of the machine can be damaged this way. Hydraulic cylinder movement is limited to reduce the likelihood of these potentially costly impacts.
Blade flip is another example where an action the operator may need to take frequently can be automated for efficiency. This is often used when windrowing material; if the operator needs to turn 180 degrees and return along a path, they need to manually rotate the blade for every pass. Blade flip automatically mirrors the blade position, saving time.
A similar tool is Auto Pass, which allows the operator to hit a button at the end of the pass that lifts the blade, sheds material, and performs a mirrored rotation in preparation for the next pass. Then, when the operator is ready to go, they can press a button and the grader automatically lowers its blade to the point it was at previously. If SmartGrade is installed, another press enables the automation, integrating multiple functions into one button.
Premium circle pairs with SmartGrade to add precision
Outside of software and tools, John Deere has used some physical design to ensure precision, cut down maintenance, and improve uptime. The most noticeable can be found under the grader, where an optional premium circle improves on the conventional circle and its wear parts.
"There are two benefits to [the premium circle]: it reduces, significantly, the maintenance cost of the machine, but it also improves accuracy," Goedert says.
A traditional circle includes wear inserts that have to be constantly adjusted to ensure there is no play in the circle when it meets the ground. If the circle raises due to that wear, accuracy is reduced. The premium circle is a sealed bearing and pinion system that cuts out the need for wear parts - instead, maintenance is a greasing that needs to be done every 500 hours. That reduces downtime and overall maintenance costs.
"In my opinion there's really no comparison – I can't think of anywhere you wouldn't want a premium circle on a motor grader, whether it's government or a contractor. There's a lot of benefit in just the serviceability - you don't have to down the machine to service it," Goedert notes.
A final area of technology that sometimes is overlooked, Goedert feels, is telematics. Equipment managers can make use of telematics for maintenance scheduling, machine tracking, and other tasks. At the same time, dealers and John Deere have expanded how they use telematics to protect equipment.
"We have dedicated machine monitoring employees at the dealerships that look for diagnostic trouble codes and try to fix machines before the owner might even have a clue that anything's wrong with it," says Goedert. "We have a group inside Deere that is solely dedicated to being proactive and fixing machines before there is an issue – that's one way that we are using technology."