BKT launches first tire designed for electric vehicles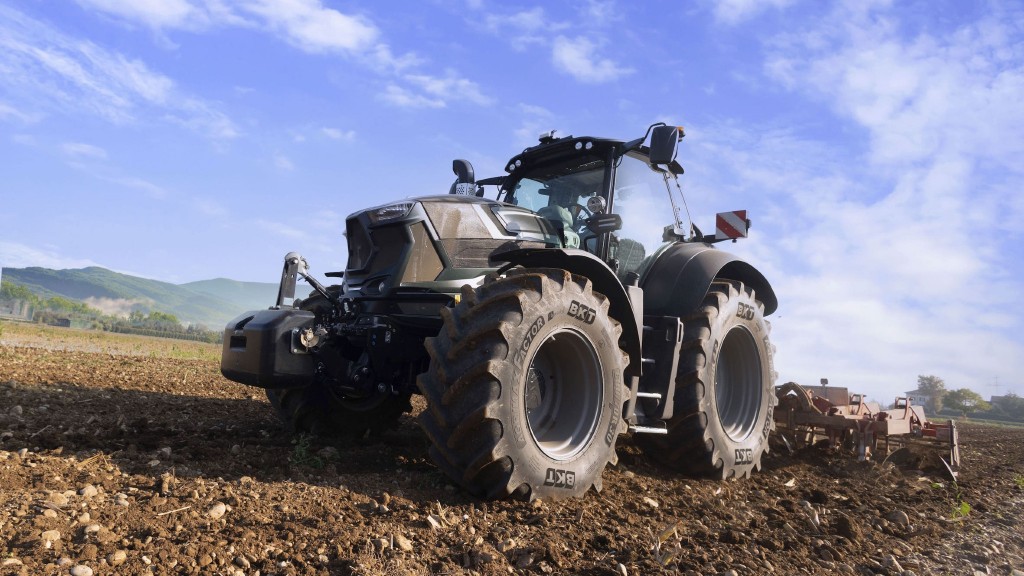 BKT Tires recently unveiled the logo for its E-READY line of tires intended for electric vehicles (EVs). The debut happened at SIMA where the E-READY logo was imprinted on the new 70-series AGRIMAXFACTOR tractor tire.
E-READY is the start of BKT delivering tires suitable for electric mobility. The line aims to improve the sustainability efforts of companies that have already incorporated EVs into their business.
There are many differences between how tires intended for EVs differ from tires intended for conventional diesel and gas machines. Trials and field tests have revealed that, in order to equip an electric vehicle, tire designers will have to take into account various factors that characterize electric mobility: weight, engine structure, range, and noise.
EVs weigh more. Electric vehicles can be 30 percent heavier because of the weight of their batteries. A weight increase of 30 percent affects how the tires operate.
Not only are EVs heavier, but they also move differently than vehicles running on natural gas or gasoline: the vehicle immediately hits maximum power when stepping on the accelerator. This means that load shifts can be faster and more intense than in conventional vehicles, with a consequent effect on tire wear.
Energy autonomy also plays a decisive role. If an electric vehicle is designed for energy savings, tires should also be designed not to affect vehicle consumption, like rolling-resistant tires.
Manufacturers are also investing in researching EV tire consistency, even in terms of noise.
That's why designing and developing tires suitable for electric mobility takes a specific path that differs from combustion vehicles.
How the weight and size of electric vehicles affect tire operation
Electric vehicle tires bear a heavier weight than combustion vehicles because EVs weigh up to 30 percent more than conventional vehicles. This calls for greater stress resistance and thus a stronger structure, starting with reinforced belts and casing, to a different and specific sidewall and bead design.
How electric motors need a different tire to optimize performance
A few additional differences that distinguish an electric vehicle tire from a conventional one include the ability to withstand higher drive torque, especially at the start. Electric motors give more thrust to the mechanical transmission – and to the wheels – than a conventional vehicle, resulting in greater acceleration. This means that it is absolutely necessary to revisit the tire's bead structure to ensure a better grip on the rim, especially during acceleration. The tread must also be optimized, both in terms of design and compound.
Electrically powered vehicles have significantly more tire wear than combustion engine vehicles, which is why a different design is needed to ensure an optimal life cycle.
Increasing the range of electric vehicles by using proper tires
If the tires mounted on an electric vehicle are inadequate, they can cause significant energy losses. Rolling resistance can contribute as much as 20 percent of the vehicle's energy consumption. In order to adjust the rolling resistance for electric vehicle tires without compromising any other performance features, it is necessary to adapt the tread compound, tread pattern, and sidewall structure. The most suitable tire for electric vehicles will therefore be the one that is less energy intensive. In other words, one whose advanced structure will not affect the electric vehicle's range.
BKT's first E-READY tire
The AGRIMAXFACTOR tractor tire is designed for both transportation and tillage operations of electric tractors. It utilizes an improved tread pattern for better rideability and smoother impact on the road.
BKT is also beginning to invest heavily in the e-mobility tire segment. Creating a wide range of EV tire options is an important goal for BKT.