Hybrid and electric telescopic booms from Genie now available in North America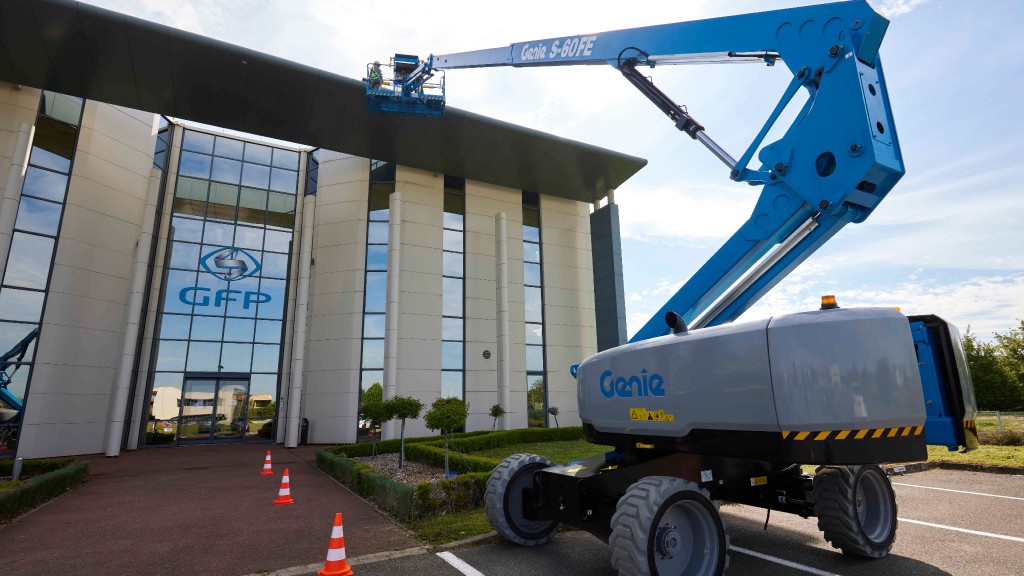 Genie has expanded the availability of its electric S-60 DC and hybrid S-60 FE - lightweight, four-wheel drive electrified telescopic boom lifts in the 60-foot height class - into the North American market.
The lifts have a working height of 65.1 feet (20 m) and a 61-foot, 2-inch (18.6 m) platform height, and are built on the success of Genie's FE hybrid and DC electric technology to deliver clean, quiet job site performance that require less maintenance and have a lower total cost of ownership.
Available in some markets since May 2022, the S-60 FE and S-60 DC have already been recognized for their ability to offer performance, versatility, and a reduced environmental footprint. They also meet growing demand on large job sites for versatile equipment that can work indoors and out, including on rough terrain. Both units are capable of operating in those conditions.
Genie's "no compromises" hybrid technology gives the S-60 FE all the performance benefits of a 4x4 diesel machine, as well as the benefits of a clean, quiet electric boom. The S-60 FE can be used indoors and outdoors and work more than one week on a single tank of fuel. Both the S-60 DC and the S-60 FE - when run in full electric mode - deliver a full day's performance on a single battery charge. Additionally, the FE model's intelligent control system keeps the batteries charged and the machine ready to work by using both regenerative braking technology and automatic engine start and stop. By charging the batteries while the boom works, job sites can almost entirely eliminate downtime usually caused by plug-in charging.
Like the S-60 FE, the S-60 DC delivers true four-wheel drive capabilities with four efficient AC electric drive motors. Additionally, the S-60 DC model offers a low weight of 17,600 pounds (7,983 kg) and quiet operation for end users looking for a powerful, all-electric boom. The FE version weighs 17,750 pounds (8,051 kg), just slightly more than the DC version, making either boom ideal for applications where floor loading must be managed.
At the same time, high-efficiency AC drive motors on all four wheels provide similar torque as hydraulic drive motors while using 30-40 percent less energy. Four-wheel drive plus electronic traction management and active oscillating axles enable outstanding performance on uneven terrain with 45 percent gradeability in rough terrain.
A 24.8 hp DPF-free Stage V engine eliminates the need for after-treatment or low-sulphur fuel, reducing the time and expense of maintenance and repairs while offering instant performance - it takes just seconds to start the engine, delivering instant power and torque when needed. Additionally, maintenance needs are further reduced by a design that has 70 percent fewer hydraulic components and moving parts.